Mohamed bin Hammam denies Fifa bribery allegations
Last updated on .From the section Football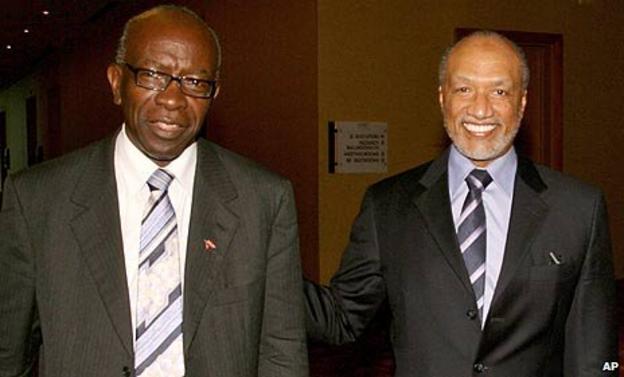 Fifa presidential candidate Mohamed bin Hammam has denied bribery allegations made against him by Fifa executive committee member Chuck Blazer.
The American claims Fifa's ethics code was violated at a meeting "organised" by Bin Hammam and Jack Warner.
Four officials, including Bin Hammam and Fifa vice-president Warner, face a Fifa ethics hearing on 29 May.
Bin Hammam has also asked that the investigation be extended to include Fifa president Sepp Blatter.
The Qatari says evidence submitted to Fifa suggests Blatter "was informed of, but did not oppose, payments allegedly made to members of the Caribbean Football Union."
The Press Association news agency says a file has been sent to world football's governing body which includes sworn affidavits by several Caribbean Football Union (CFU) members, who claim they were offered thousands of dollars in cash for "development projects" at the meeting earlier this month.
The file, which includes photographs, says some of the cash was accepted, but some of those who refused to take any money approached Blazer.
The Caribbean meeting, on 10 and 11 May, was in relation to the Fifa presidential election which takes place on 1 June.
The other two officials to face the hearing are Debbie Minguell and Jason Sylvester from the CFU, which represents 25 Fifa member nations as well as five territories not affiliated to Fifa.
Bin Hammam - the 62-year-old president of the Asian Football Confederation - is running against current Fifa president Blatter to be the new head of football's world governing body.
In a quote published on his website on Thursday, Bin Hammam said: "I am not at all afraid to answer any questions that the Ethics Committee may have for me at the hearing next Sunday. As long as the Committee guarantees a fair process, I have nothing to fear."
This follows a statement on his website on Wednesday, which read: "This has been a difficult and painful day for me today.
"But, if there is even the slightest justice in the world, these allegations will vanish in the wind. This move is little more than a tactic being used by those who have no confidence in their own ability to emerge successfully from the Fifa presidential election.
"I remain deeply indebted to Mr Warner for his sense of fair play because without his support and understanding I would not have been able to meet with several important member associations of Fifa to discuss my election manifesto.
"Here I completely deny any allegations of wrongdoing either intentionally or unknowingly while I was in the Caribbean.
"I will offer Mr Warner my full support in ensuring we are discharged honourably by the Fifa ethics committee, a body which I hold in the highest esteem.
"I am confident that there is no charge to answer and that I will be free to stand in the Fifa presidential election on 1 June as originally planned."
Fifa has announced that Claudio Sulser, the head of the ethics committee, will not take charge of the hearing as he shares Swiss nationality with Bin Hammam's presidential rival Blatter.
The committee's deputy chairman Petrus Damaseb of Namibia will instead chair proceedings.
The Fifa statement read: "On May 24 2011, Fifa executive committee member and Concacaf general secretary Chuck Blazer reported to Fifa secretary general Jerome Valcke possible violations of the Fifa code of ethics allegedly committed by officials.
"In particular, the report referred to a special meeting of the Caribbean Football Union (CFU), apparently organised jointly by Fifa vice-president Jack A. Warner and Fifa executive committee member Mohamed Bin Hammam, which took place on May 10 and 11 2011.
"This meeting was linked to the upcoming Fifa presidential election.
"In view of the facts alleged in this report, which include bribery allegations, Fifa secretary general Jerome Valcke, in compliance with art. 16 of the Fifa code of ethics, yesterday requested the Fifa ethics committee to open ethics proceedings."
The allegations - levelled by Warner's longtime Concacaf ally Blazer - are likely to wreck Bin Hammam's already fading hopes of defeating Blatter in the vote by Fifa's 208 national members.
"The intriguing part of this is the person who has brought the complaints, Chuck Blazer," former Sports Minister Richard Caborn told the BBC.
"He obviously has been on the inside track in Fifa for many, many years. He's very close to Jack Warner. What his motives are, we will have to wait and see.
"It could well be the start of a total look at how Fifa is run in the future.
"Whether the pressure is now telling and that people are saying: 'We have now got to make this organisation fit for purpose.'"
MP Damian Collins, who named Confederation of African Football (Caf) president Issa Hayatou and executive committee member Jacques Anouma in Parliament as allegedly receiving bribes from Qatar 2022, called on Fifa to abandon next week's presidential election.
"Fifa needs to have a proper independent investigation and the timetable does not allow this to happen before next week," said Collins.
"If Bin Hammam is suspended it would be unacceptable for the election to simply become a shoe-in for Sepp Blatter.
"There must be a new election with new candidates allowed to come forward."
Both Hayatou and Anouma have denied the claims while Qatar 2022 World Cup officials described allegations they paid bribes in return for votes as "distressing, insulting and incomprehensible".
News of the Fifa inquiry comes soon after Fifa launched a separate investigation into claims made by former Football Association and England 2018 World Cup bid chairman Lord Triesman.
Triesman alleged that four Fifa members - Warner, Nicolas Leoz, Ricardo Teixeira and Worawi Makudi - sought "bribes" in return for backing England's failed 2018 World Cup bid.
Warner said the allegations made against him by Triesman were "a piece of nonsense".
Meanwhile, Blatter, writing for the Inside World Football website, said: "I take absolutely no joy in seeing my friends and colleagues of many years dragged before the ethics committee.
"I take no joy to see men who stood by my side for some two decades, suffer through public humiliation without having been convicted of any wrongdoing.
"Nobody is guilty until a judge has found him guilty beyond reasonable doubt.
"To now assume that the present ordeal of my opponent were to fill me with some sort of perverse satisfaction or that this entire matter was somehow masterminded by me is ludicrous and completely reprehensible."
On Sunday, Blatter angrily denied that Fifa is corrupt and added there is no evidence to support recent accusations of wrongdoing.
Blatter's campaign adviser Brian Alexander said the Fifa president would not comment on the case.
Watch the BBC Panorama documentary Fifa: Football's shame? on iPlayer (UK only)