Champions League: Rooney is key to Man Utd glory

By Alan Hansen
BBC Sport football expert
Last updated on .From the section Football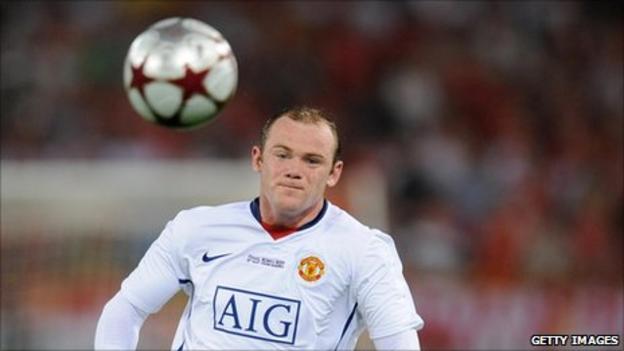 If Manchester United are to beat Barcelona in the Champions League final on Saturday they will need all their big players to perform to the maximum - and there is no bigger player in Sir Alex Ferguson's line-up than Wayne Rooney.
Rooney will stride the Wembley stage in the biggest club game of all alongside the best player on the planet, Messi, and the host of World Cup winners in the Barcelona team. What better platform to show his class?
The 25-year-old striker has suffered on occasions in the last 12 months, particularly during England's embarrassing World Cup campaign in South Africa when he looked, at times, like he had never seen a football before.
The Wembley showpiece is a match bigger than any other at club level and the perfect place for Rooney to exorcise those World Cup demons in front of a huge audience watching around the globe; the chance for him to demonstrate what a talent he is.
Rooney has class, quality and wonderful natural movement that can pull defences around, create chances for himself and make the spaces to fashion opportunities for his team-mates.
Although Rooney has been hammered for his form when he has struggled this season, and he will probably admit himself there were times when he failed to match his own high standards, I think he has actually not been that bad.
He set freakishly high standards before his injury against Bayern Munich in the Champions League last season and, to an extent, he was being judged in that context. He has had his ups and downs and, realistically, he was always going to struggle to replicate his truly remarkable form of last season.
Rooney was not playing particularly well but he always kept going - and that was a message we used to have ringing in our ears from people like Bob Paisley and Joe Fagan when I was playing at Liverpool.
He never dropped his levels of commitment once, even when his prime form had deserted him.
I watched Rooney play in what was arguably the worst Manchester United performance in recent history when they lost 3-1 at Anfield in March and, while he was a million miles away from his best, he kept going.
It is a simple phrase and a simple attitude of mind but I can assure you it is a lift to the other members of the team when they see their best player keep going even in adversity. It is an asset that is worth its weight in gold to a team and a manager.
Ferguson will know this. The Old Trafford boss will have been saying all the right things behind the scenes to restore Rooney to his brilliant best and he has been rewarded in the last few weeks as United secured a record 19th top-flight title and made their way to a third Champions League final in four years.
As a result of the attitude he maintained when he was struggling, Rooney's form has come back to him and he has been a performer of huge significance in the last six to eight weeks. The saying "form is temporary, class is permanent" has become something of a cliché but I make no apology for applying it to Rooney.
He has been fantastic in the last couple of months. He is a class act and Barcelona coach Pep Guardiola will be only too aware of the threat Rooney will pose if the forward can exert his influence on events at Wembley.
Men like Rio Ferdinand and captain Nemanja Vidic will have to defend in almost superhuman fashion against the glittering array of attacking options confronting them, but Rooney remains United's best player and Barcelona know he could be a match-winner for their opponents.
The comparison between Rooney and Messi will be fascinating and Ferguson faces a delicate balancing act in deciding what role the England striker will play in his team, particularly whether he chooses to keeps his faith in Rooney's blossoming partnership with Javier Hernandez.
Xavi and Andres Iniesta are the suppliers for Messi and when Jose Mourinho set up Inter Milan to beat Barcelona in last season's Champions League semi-final, he had two disciplined lines of four and Guardiola's side were never allowed to play between the lines.
This cut off Messi's line of supply. The Argentine never got the ball and Mourinho's plan bore fruit with a place in the final and eventual victory against Bayern Munich.
This brings us back to the most fascinating question of all. Will Ferguson pair Rooney and Hernandez or play Rooney on his own? My hunch is that he will play Rooney alone, despite the growing body of evidence that Ferguson has unearthed another outstanding talent in the young Mexican.
If United play an open game against Barcelona they could be annihilated. This leaves them with the other option of packing the midfield with five men - and, as a consequence, it is then unrealistic to play two up front.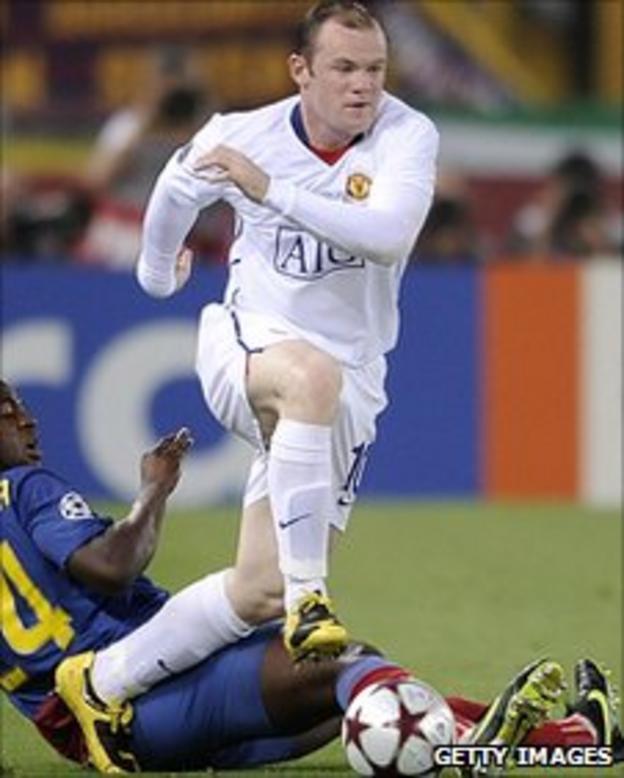 It is feasible that a player of Rooney's quality could drop deeper in a withdrawn role in midfield behind Hernandez, but he has proved his quality as a lone striker and I believe that is the role that will be more suited to United's needs against Barcelona.
I believe he will play Rooney on his own, at least to start with, to ensure United have two lines that are disciplined and compact to effectively block Barcelona's path.
Ferguson has to achieve this vital balance between attacking Barcelona, always his natural instinct, but making sure United do not leave space for them to exploit at the back. What he decides to do with Rooney will play a big part in this.
Rooney can make Wembley a showcase for his special talents. If he can stamp his authority on the game, Manchester United's chances of victory against Barcelona will soar.
Alan Hansen was speaking to BBC Sport chief football writer Phil McNulty