African regions back Sepp Blatter for Fifa re-election
Last updated on .From the section Football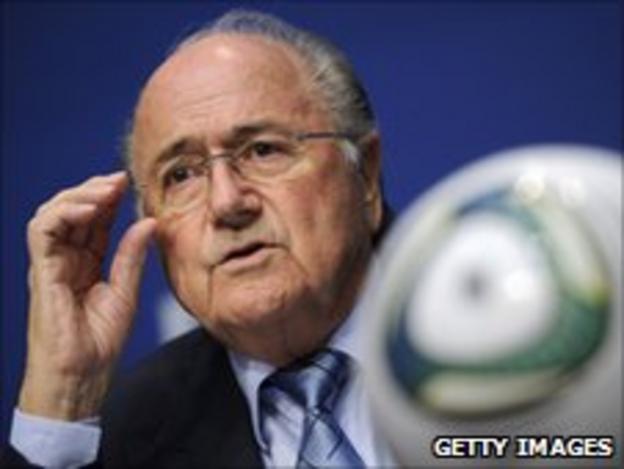 Sepp Blatter was endorsed for re-election as Fifa president by four African regional federations on Saturday in Johannesburg.
He was at a meeting of African FA bosses on the legacy of the continent's first World Cup in South Africa.
Blatter is being challenged by Qatari Mohamed Bin Hammam in Fifa's election on 1 June.
The regions have no vote but hope their declaration will carry weight with Africa's 53 country federations.
Unifac president Mahomed Iya read the declaration of support for Blatter.
"The national associations from various regions in Africa namely Cosafa [south], Cecafa [east] , Wafu [west] and Unifac [central] gathered in Johannesburg, declare full support for the re-election of Mr Sepp Blatter to further serve another term as from the 1st of June," said Iya after the meeting.
Blatter, who had told journalists that he was not in Africa seeking votes, said he was confident of re-election.
"I am confident especially after the support from the associations assembled here," the Swiss added before the declaration of support was read.
Some of the heads of African federations showered Blatter with praise for bringing the World Cup to Africa which was held in South Africa last year.
"The benefits of the World Cup have filtered down to federations around the continent. We are seeing improved resources, which will help develop football talent," said Cecafa president Leodegar Tenga.
This comes just days after the Confederation of African Football (Caf) endorsed Blatter for re-election.
Africa's backing, however, is not cast in stone as member countries opposed the Caf's recommendation in a previous election.
When Blatter was voted to power in 1998, the Caf executive campaigned vigorously for his Swedish opponent Lennart Johansson but the majority of Africa went against the regional body's wishes and helped the Swiss sweep to victory.
And when Caf president Issa Hayatou of Cameroon took on Blatter in South Korea four years later, he suffered a resounding defeat with many African delegates voting against their boss.
While Blatter is revered by many Africans for keeping a long-time promise and bringing the World Cup to the continent last year, money talks in Africa where most football associations struggle financially.
Hammam has promised to double the yearly Fifa grant for countries to $500,000 (£300,000) if elected and raise the costs-ceiling for special projects from $400,000 to $1m.