Boss Kenny Brannigan to join Queen of the South exodus
By Sandra Brown
BBC Scotland
Last updated on .From the section Football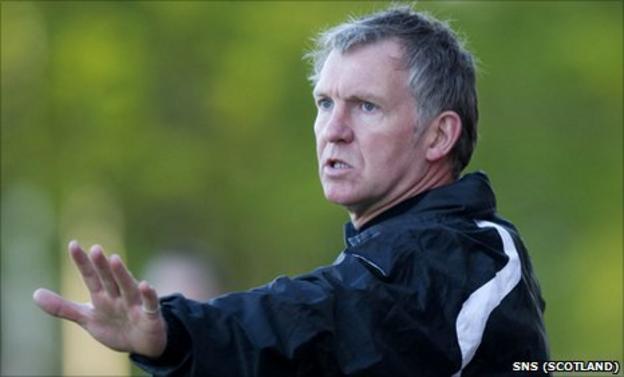 Manager Kenny Brannigan has been told by the Queen of the South board that his contract will not be renewed.
Brannigan, who received the news in a letter from the Palmerston board, will be in charge of the team until 31 May, when his current deal expires.
He led the club to fourth in the First Division and to the Challenge Cup final with a threadbare squad.
Also leaving the club are captain David Lilley and forwards Willie McLaren and Derek Holmes, who have all been freed.
The news follows the departure of striker Colin McMenamin. He turned down a new contract to sign a two-year deal with First Division rivals Ross County.
Brannigan, who took over from Gordon Chisholm in March last year, was far from impressed at the board's handling of his impending exit.
"It's not important to me, the letter of unemployment," he told BBC Scotland.
"I had made a decision a while ago that I couldn't work with these people and to receive a letter at this stage is just so wrong and it's embarrassing.
"We have had so much success together: European football, finished fourth the last two years, took them to a cup final, took £350,000-£400,000 off their budget from last year and brought in nine kids over the season."
The manager did, though, express his gratitude to those who have helped him in his time there.
"I would like to thank the supporters and all the people I have worked with, particularly the players," he said.
"Despite what has been going in the background, it didn't affect the style of play with a very limited squad.
"Hopefully they can go on and achieve their goals in the future."
A number of other out-of-contract Queens players are understood to be close to joining new clubs.
Meanwhile, it is still unclear whether Queens will remain a full-time club and where the club will train next season.