Man Utd's Wayne Rooney provoked by Twitter abuse
Last updated on .From the section Football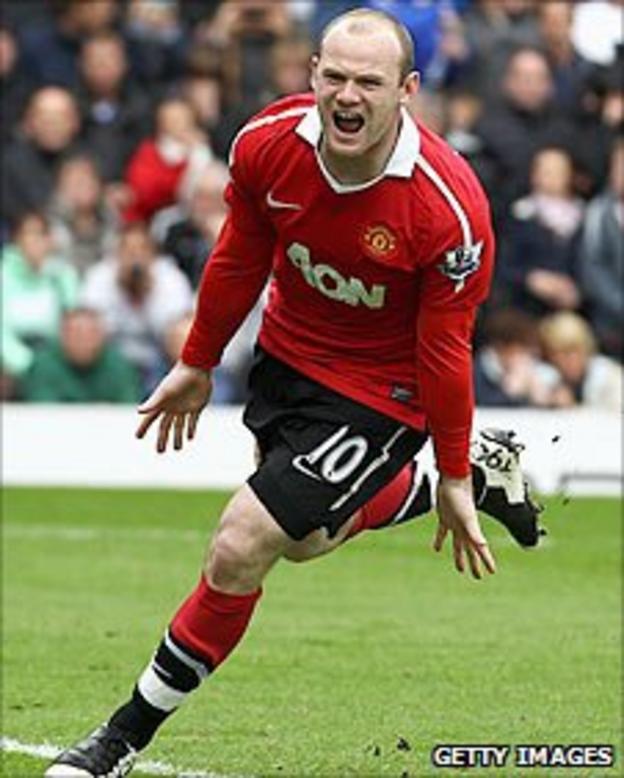 Manchester United striker Wayne Rooney has told a Twitter user: "I'll put u asleep within 10 seconds" after being provoked on the social networking site.
The 25-year-old England star, who has a following of over 570,000, was replying to an abusive tweet on Tuesday.
Rooney suggested a meeting at the training ground, tweeting: "hope u turn up if u don't gonna tell everyone ur scared u little nit. I'll be waiting."
In an effort to defuse the situation, Rooney tweeted: "Haha bit of banter".
The Twitter account belonging to the follower who taunted Rooney was subsequently deleted.
The forward's spokesman subsequently issued a statement about the incident. "As is made clear in the tweets, this whole exchange is banter," it read.
"There is no suggestion, nor is there any intention of a suggestion, of a real fight."
A number of footballers have already been reprimanded for inappropriate use of Twitter this season.
West Ham striker Carlton Cole was recently charged by the Football Association for improper conduct for remarks made during England's 1-1 draw with Ghana at Wembley in March.
While Liverpool striker Ryan Babel was fined £10,000 for a Twitter post and warned about his future conduct after being linked to a mocked-up picture of referee Howard Webb in a Manchester United shirt after a 1-0 defeat at Old Trafford in the FA Cup.
Arsenal manager Arsene Wenger said that social media sites such as Twitter can be good for relations between players and fans, provided they are not abused.
"At the moment we allow it. We are thinking about how to use it the best way," the Frenchman said.
"It can be very positive because it can be a good communication for the players with the fans which doesn't exist anymore.
"It can as well have negative repercussions for the clubs if it is not well used so we are thinking about it.
"We will see what kind of direction we will go."
Rooney was banned for two matches in April after accepting a Football Association charge for swearing into a TV camera after scoring a hat-trick at West Ham.
On Wednesday night at the Manchester United awards, Rooney's overhead kick against Manchester City at Old Trafford in February was the clear choice for goal of the season.
Portuguese winger Nani received the players' player of the year award, while Javier Hernandez was voted fans' player of the year.