Alex McLeish upset after Birmingham players' night out
Last updated on .From the section Football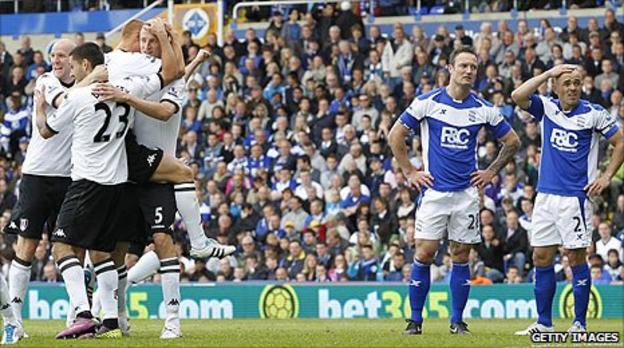 Birmingham manager Alex McLeish was left frustrated after several players went on a night out five days before their crucial end-of-season match.
The Blues travel to Tottenham on Sunday needing to at least match Wigan and Blackpool's results to avoid the drop.
After hearing of their conduct, he told BBC Radio 5 live: "I told the players it was a gross error of judgement.
"They've taken it on the chin and have to give a big performance. Sometimes you can't defend the indefensible."
The Premier League club were attending the end of season gala on Monday but the night was soured with reports that players, including goalkeepers Ben Foster and Colin Doyle, were drinking until four in the morning.
Boss McLeish emphasised that many members of the squad were not involved at all but fully understood the frustrations that some supporters may be feeling with such a big game coming up.
Birmingham are currently one place out of the relegation zone, and remain above Blackpool and Wigan only on goal difference.
"It wasn't the right timing and I have every sympathy with the fans but we realise we have a big battle at the weekend to have one of the greatest seasons in Birmingham's history," McLeish added.
"Technically they didn't break the rules but this week is a sensitive one having lost the game on Sunday and going into the last game fighting to retain Premier League status.
"They know they disappointed me and we just have to get on with it because we need these guys to do on Sunday what they have done terrifically in a lot of games this season and that's fight until the final whistle."
Blues striker Kevin Phillips has called next Sunday's trip to White Hart Lane "a £90m game" as the team try to avoid relegation.
Wigan travel to Stoke and Blackpool visit Manchester United while rivals Wolves and Blackburn, who meet at Molineux on the final day of the season, are on 40 points.
Birmingham have been in freefall since winning the League Cup at the end of February, winning just two of their 11 league games since then.