No Reading ill-feeling, says Swansea's Brendan Rodgers
Last updated on .From the section Football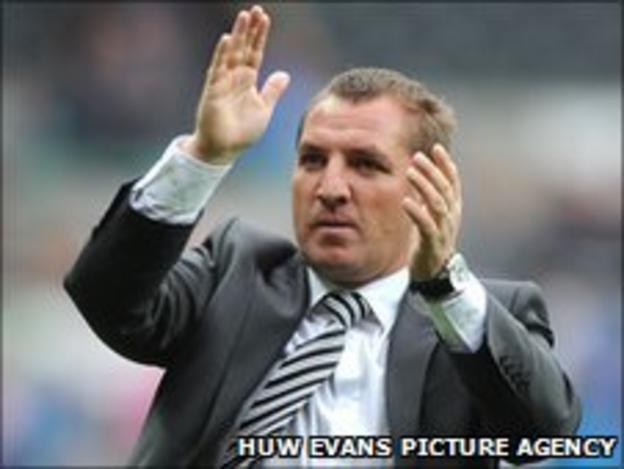 Swansea boss Brendan Rodgers said there will be "no animosity" on his part towards Reading when the sides meet in the Championship final on 30 May.
But the Northern Irishman, who spent 14-years in all at Reading as a player, coach and then manager, insisted the experience made him a better manager.
"I had a disappointing spell there as a manager, but I learnt many great things from that," he said.
"And that will probably set me up now for the rest of my career. I cannot forget the other 14 years I had there being involved with the club.
"So there's no animosity - nothing other than it's a game we want to be professional in and a game that we want to win."
Rodgers took charge of Reading before the start of last season, but managed just five league wins during his tenure at the Madejski Stadium, winning just once at home.
The results left the Berkshire side lying just one place clear of the relegation zone in the Championship, and the board ran out of patience.
Reading chairman Sir John Madejski said he recognised the "irony of football" as the man he hired and fired now stands between his club and a return to the Premier League after a three-season absence.
"I never had any problems with Brendan at all, we're very good chums and he's a good manager," said Madejski after watching his side beat Cardiff City 3-0 in the play-off semi-final second leg in the Welsh capital on Tuesday.
"It didn't work out for him at Reading, but we always knew it would work out somewhere and it's proved to be the case. He's done a fantastic job for Swansea and he's a very nice gentleman."
Rodgers said he arrived at Swansea last summer with a new determination and vision after evaluating his career following his Reading dismissal.
He has found instant success in south Wales, building on the solid foundations and footballing principles laid down by Roberto Martinez, who guided the Swans to Championship promotion in 2008.
"The six months I had out after leaving [Reading] allowed me to reflect," Rodgers told BBC Wales Sport.
"It has made me a better manager. Obviously at the time it was difficult, but certainly the learning that took place for me after that was fantastic.
"It allowed me to refocus and focus in on what I had to do to become a better manager."
The mouth-watering prize now within Rodgers' reach is a place among English football's elite and a potential £90m cash injection for a club that changed hands for a £1 less than 10 years ago.
But he said: "If you thought too much about the games along that line, you wouldn't play the game.
"For us it's really about the performance level - getting out there and doing what we've done all season, which is playing our style of football and bringing that to the opponent.
"The difference between winning and losing is very, very minimal, but the consequences are massive."