'Well up for the Cup
By John Berry
BBC Scotland
Last updated on .From the section Football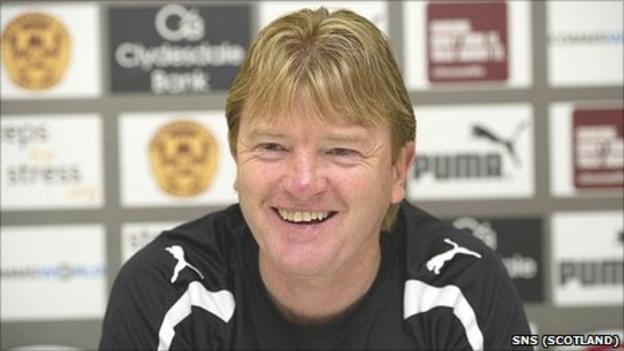 It is only a matter of days before Motherwell take to the field in one of the biggest games in the club's history.
It has been 20 years since the Fir Park outfit ran out 4-3 winners over Dundee United in the 1991 Scottish Cup final and McCall's men want to repeat the success of the class of '91 with a victory on Saturday against Celtic.
Angus, Ferguson, Kirk, O'Donnell and Maxwell were among the heroes on 18 May two decades ago.
Now the likes of Craigan, Sutton, Murphy, Humphrey and Randolph will hope to be the next to go down in Motherwell folklore.
In Motherwell town centre, the claret and amber bunting lining the streets shows the support from the local community.
Lifelong Motherwell fan Peter Elder, 37, has waited 20 years to see his beloved side feature in another Scottish Cup final and is finding it hard to contain his excitement.
"I'm looking forward to it getting increasingly more intense as the week goes on, leading to Saturday morning where everyone will be hyper," he said.
This is a somewhat new experience for fellow Well fan, Jamie McCarry, who was only one year old when the team last won the Cup.
"It's a new experience for me," McCarry said.
"We have been to the semi in my lifetime, where Rangers beat us. But, as we ran out such comfortable winners in the semi-final against St Johnstone this season, it took a while for us to realise we are there."
It has been a roller-coaster ride of a season for Motherwell, dealing with the departure of Craig Brown and Archie Knox in January, as well as their top scorer, Nick Blackman, who followed the management team to Aberdeen.
But the fans believe that the team has since improved under new boss Stuart McCall.
"I think everyone's low point was mid-January, just after Craig Brown had left us," Elder explained.
"So to get from that downward spiral to this Saturday is fantastic.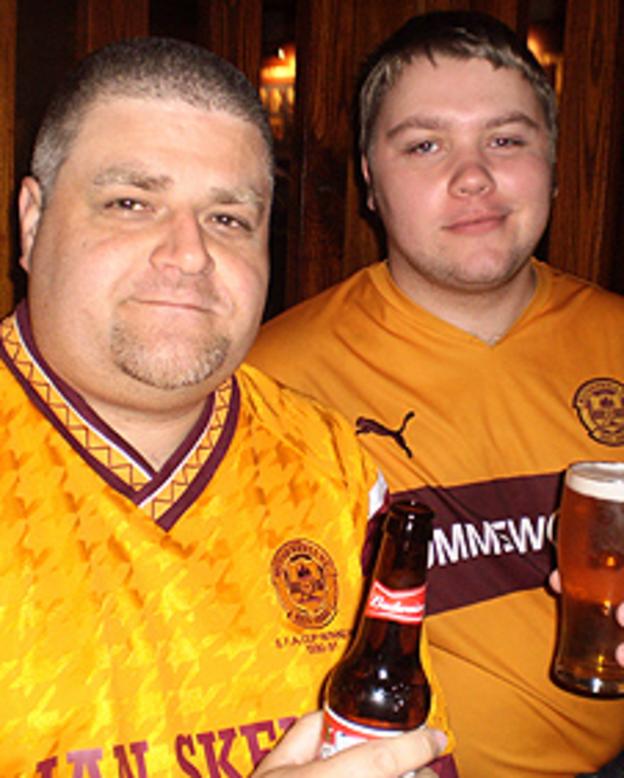 "A lot of people may have thought we would have headed into the relegation dogfight, so it is credit to McCall for turning it around."
The Cup win in '91 provided many great games, none more exciting than the final itself. Yet one moment that sticks in the mind of Elder was from the only game he did not attend.
"The only game I never went to was the Aberdeen game, and it's one of those games that, if I could, I'd turn back the clock and go to," he said.
"I remember sitting listening to the match on the radio and with about 15 minutes to go the commentator said 'Well were making a substitution and Kirk was coming on.
"I turned to my girlfriend and said, 'What are they doing bring this dumpling on?' He had been having a terrible season.
"But then he popped up and scored the winner, so what do I know?" he laughed.
Stevie Kirk would take confidence from his winning goal against Aberdeen, and went on to score in every round, making him a true club legend.
Although the final itself sticks in the minds of the Motherwell supporters as the game of the Cup run, for Elder it's the semi-final replay.
He said: "We felt good after the 0-0 with Celtic, but everyone and their granny was thinking 'you never get another chance at Celtic' and we started the game terribly. I mean, we could have been 3-0 down early on."
At 2-2 Colin O'Neil's screamer sent the Motherwell fans manic and they believed that this could be their time.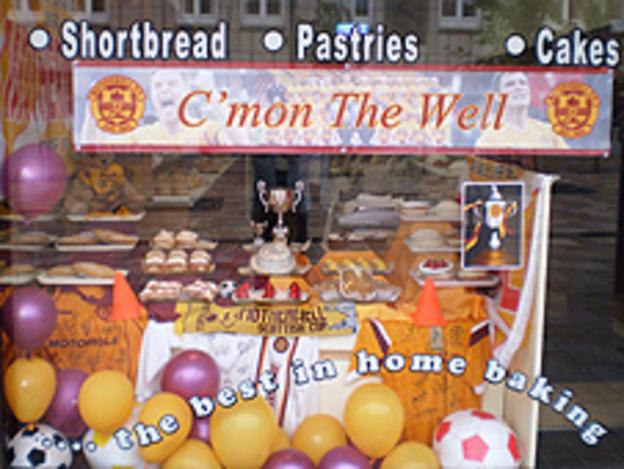 "The thing I remember is the madness of the celebrations, people flying about everywhere," he continued.
"I saw Motherwell fans being taken away in stretchers. Now I don't know if that was the fact that they had been hurt in the celebrations or it was the shock of us actually leading in a semi-final," he quipped.
There is a real belief around Motherwell that McCall's side can defeat Celtic on Saturday to claim the Scottish Cup for the third time in their history.
So what sticks out for the younger fan from this season's Cup run?
"The Fir Park performance against Dundee United was outstanding," McCarry said.
"It wasn't just how we played, but the way we stopped United from playing. We didn't just beat them that night, we thumped them.
"I just can't remember a Motherwell team playing in that manner. I would say it was flawless but we must have done something wrong. I think we maybe gave away a throw-in."
Like the other 16,000 Motherwell fans who will be travelling to Hampden, Elder and McCarry are already in party mode. This is one of the biggest games in the 125-year history of Motherwell and they are going to make the most of it.
"A defeat won't waste our day, a victory will only enhance it. We have to go there, not expecting a victory, but scream our lungs out and support the players and help them get it," Elder explained with a tone of optimism in his voice.
"Time for New Heroes" was the banner unveiled at Fir Park.
Saturday is the time for McCall's men to shine.
Peter Elder's line-up: Randolph, Saunders, Craigan, Hutchinson, Hammell, Humphrey, Jennings, Hateley, Lasley, Murphy, Sutton.
Jamie McCarry's line-up: Randolph, Hateley, Craigan, Hutchinson, Hammell, Humphrey, Jennings, Lasley, Jones, Murphy, Sutton.