Glasgow the hardest place to play football - David Weir
Last updated on .From the section Football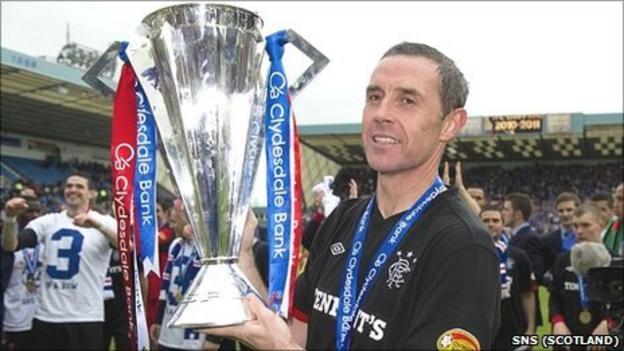 Rangers captain David Weir reckons Glasgow is the toughest city in which to be a professional footballer.
"In my opinion it is the hardest place in Britain, if not Europe, to play football. It is the ultimate goldfish bowl," said the 41-year-old defender.
"There are two teams; it's black and white, nothing in between.
"Wherever you go - Glasgow is not that big a city - you are perceived to be a Rangers player or a Celtic player and they either love you or hate you."
Weir lives in the north-west of England and describes the distance from the intensity of Glasgow as "a benefit".
"I'm fortunate in that I commute part of the week," he told BBC 5 live.
"There is no hiding place [in Glasgow], there is no getting away from it.
"Two, three, four newspapers have a story on the front page and the back page.
"The media attention is incredible. There are three or four radio shows every night talking about Rangers and Celtic."
And the former Falkirk and Hearts defender continued: "It's hard. It's relentless. You can't just go for a walk and forget about it because everywhere you go there is someone who wants to talk to you about Rangers or Celtic.
"There is always that kind of worry that it is not going to be good-natured but I've never had a problem.
"As long as you are sensible about it, you don't have a problem, but there is always that thing there."
In a lengthy interview on Tuesday evening, Weir revealed that he found the hardest part of Old Firm games to be the build-up, when he would become apprehensive about games against his club's main rival.
"You know if it goes wrong there are going to be repercussions," he said.
"I loved my time at Everton but there is no comparison between Glasgow and Liverpool, in my opinion.
"It just envelopes the whole city for weeks prior and weeks after.
"Walter Smith had been to games in Argentina where he thought there was something similar but, with regards to European football, I haven't seen anything that compares."
Weir is now officially out of contract but, after making more than 50 appearances for Rangers as they lifted a Scottish Premier League and League Cup double, he seems almost certain to continue playing.
"I've come to the conclusion that after playing that amount of games last season it would be hard not to play next season," said the former Everton captain.
"I think I've almost convinced myself to give it a bash again."
Asked if he might be at Rangers when the Ibrox squad resumes for pre-season training under new manager Ally McCoist, Weir said: "I don't know. I've not spoken about that.
"Alistair is coming in and he will have his own ideas about how things will progress in the future.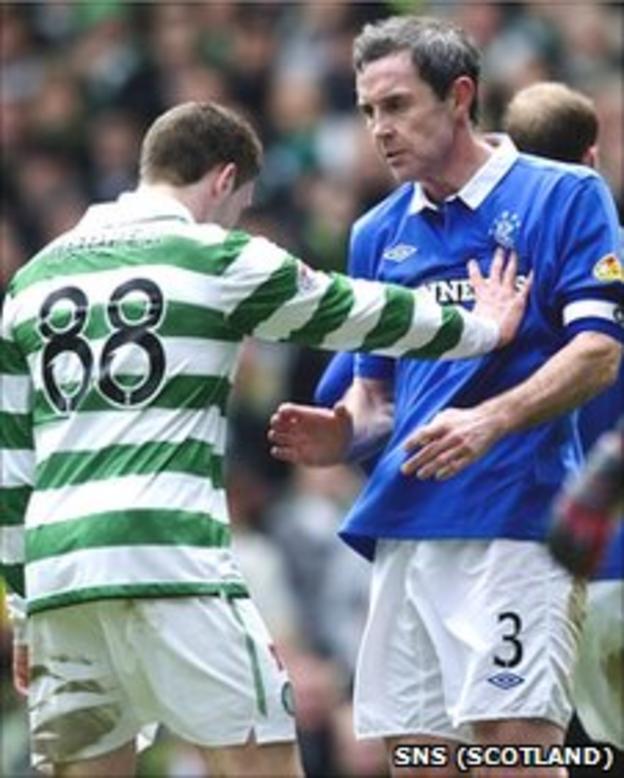 "It's definitely not something I would rule out. It's a great place to play football but I don't know how the club is going to be."
At one point, it had looked like Rangers might need to replace Weir, his central defensive partner Madjid Bougherra and left-back Sasa Papac.
On Tuesday it was announced that the latter had agreed a new one-year deal to stay until next summer, while Bougherra said in the aftermath of Rangers' title win at Kilmarnock that he would stay for the final year of his contract.
That, though, remains to be seen and the Algerian will most likely make a decision on his future after playing against Morocco in an African Cup of Nations qualifier in June.
Should Bougherra depart, it may increase the chances of McCoist re-signing the veteran Weir, who is studying for his Uefa pro licence in preparation for a future move into coaching.
Weir was keen to defend the standard of Scottish football but admitted that the game there would benefit if Rangers and Celtic one day left for England.
He said: "The Scottish league is better than people give it credit for. Every game is competitive and every game you've got to work to win.
"You just have to look at a lot of the English lads who came up from the Premiership and have maybe not done as well as people would have expected.
"I think if the English league needed a lift - which I don't think it does - then it would be the perfect way to do it.
"There is no doubt that Rangers and Celtic would bring something to the league - there are 50,000 at Rangers every week, 60,000 at Celtic every week.
"They would hold their own in the league; they wouldn't win it and I don't think they would get relegated.
"It would give everyone else a chance to win the league in Scotland. People enjoy success.
"If Hearts had a chance of winning the league, the stadium would be full every week. I'm sure Hibs, Dundee United and Aberdeen would be the same."