Lennon wants Celtic fans to stop offensive chanting
Last updated on .From the section Football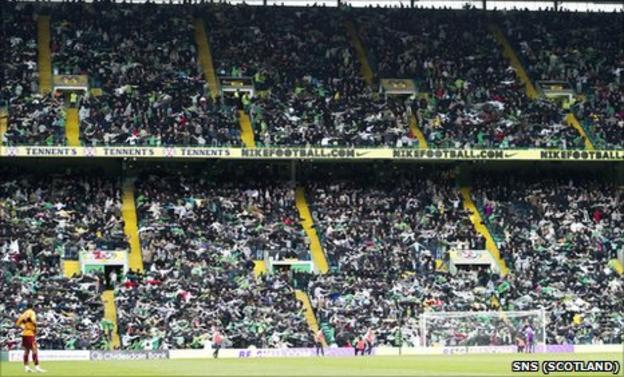 Celtic manager Neil Lennon has urged supporters to stop offensive chanting.
Distasteful songs were heard at Tynecastle last week when some Celtic fans clashed with stewards after a fan was arrested for assaulting Lennon.
"We must ensure that we do all we can to uphold the club's reputation," said Lennon in a club statement.
"In recent times, there has been a re-emergence, from a small minority, of some of the singing and chanting which is simply not acceptable."
Scottish football has come under intense scrutiny this season with the behaviour of playing staff, management and fans receiving public criticism from senior politicians and police.
And Lennon said he wants the chanting of "unacceptable" songs at Celtic's matches to stop.
In a statement on the club website, Lennon said: "Celtic is rightly proud of its unique history and also of its open, inclusive and welcoming spirit. It is this which we hold dear.
"While we are delighted with the support we have received throughout the season, it is very important that we ensure that Celtic is always a positive club for all.
"We all know it has been a very difficult season for Celtic and we all know what has gone on.
"This has no place at Celtic Park or at any of our matches and it must be tackled - all this does is tarnish the great name of Celtic and embarrasses the club.
"As we move towards next season it is vitally important that we ensure we do so positively.
"However small the minority of people involved, this behaviour has no place at Celtic and I am sure as we move towards a new season and new beginning, everyone associated with the club will recognise this."
Lennon, whose team face Motherwell in the Scottish Cup final on Saturday, added: "We move to next season with confidence, we will try again to bring fast, attacking, entertaining and positive football - and ultimately, football that brings you the supporters the success which your backing deserves."
Celtic have also announced a three-match pre-season tour of Australia following their trip to Brisbane last year.
They'll play matches against Central Coast Mariners on 2 July, Perth Glory a week later and then Melbourne Victory on July 13.
Celtic captain Scott Brown told the club's website: "Brisbane was a fantastic experience for all the players and it really emphasised the difference between Celtic and other football clubs.
"Celtic is a global club and I am really looking forward to leading the team down under as club captain."
Manager Lennon added: "The players who went to Brisbane raved about the backing they received from the fans.
"I'm really excited as the cities we are visiting are full of Celtic fans.
"The supporters this season have been magnificent and I know our fans all over the world have been tuning in and watching.
"A tour like this gives us the opportunity to go and meet those fans and thank them for their support."