Brendan Rodgers predicts Wembley advantage for Swansea
Last updated on .From the section Football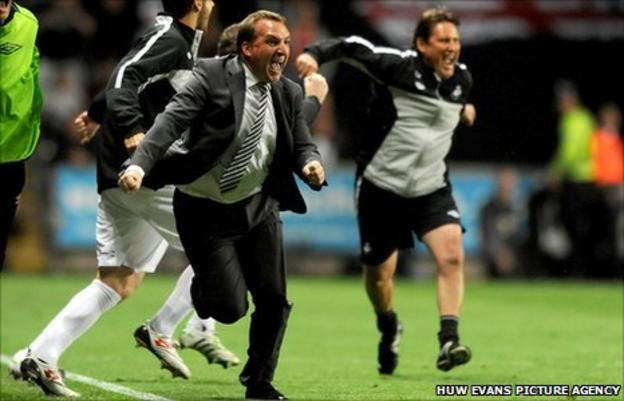 Brendan Rodgers feels Wembley's giant pitch will ensure Swansea City's play-off final will be "like a home game" because of their expansive style.
"I think Wembley will be like a home game for us because of the size of the field and the whole occasion," he said.
"And we have players that rise to the big occasion. It will be brilliant."
After beating Forest over two legs, the Swans now have almost two weeks to prepare for their third visit to Wembley's hallowed turf, which, at 105m by 68m, is among the larger playing surfaces.
The Welsh club will face local rivals Cardiff City or Rodgers' old club Reading - who meet on Tuesday - in the Championship play-off final as Swansea bid to end their 28-year top-flight absence.
And Rodgers, whose side boast the best home record in the division, believes that his club will be able to treat the final like a home game and impose their style of possession football on whichever team they face.
"We must celebrate as it has been a mammoth night in the club's history to get to a play-off final," said Rodgers in the aftermath of the Swansea celebrations.
"We have beaten the big teams all season at home but many people would have only seen us a few times on the television as no-one really talks about us.
"We are tucked away in a nice little beautiful corner of south Wales and every now and then people turn up and think 'oh they're actually not bad this lot.'
"But we have been brilliant all season and we felt we could have gone up automatically but we slipped up too often away from home.
"We love to play our football and obviously when the TV cameras come, there is that extra bit of motivation for the players as there are millions of people watching and it is a real showcase.
"But there is no bigger showcase then the one to come. Hopefully we can turn it on one last time.
"I think the Forest game was like a final in relation to the quality of the game although I think the night belongs to my players and supporters as they were heroic.
"Some of our passing and movement was brilliant while we had to defend very well in the second-half against a very good side.
"We are not the most physically blessed team in the world but we show unbelievable courage to pass the ball in pressure situations.
"But what has been important this year is our defence and that spirit and unity we show is what gets teams places."
Swansea hope to become the first Welsh team to win promotion to the Premier League and the estimated £90m Premier League jackpot.
The Swans hope to replicate their play-off success of the 1998 - the inaugural play-off campaign - when Terry Yorath's side were promoted from the old Fourth Division after beating Torquay in a two-legged final.