McCulloch tips McCoist to be success as Rangers manager
Last updated on .From the section Football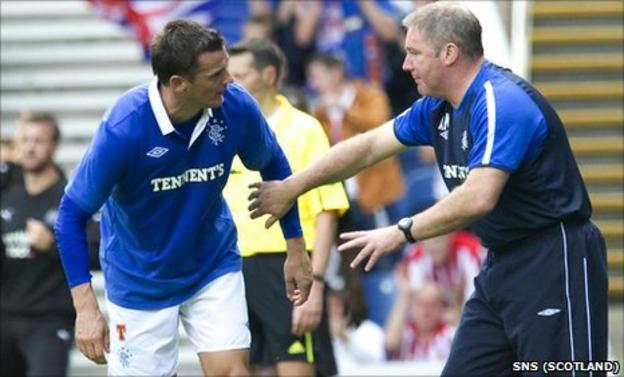 Rangers midfielder Lee McCulloch believes new manager Ally McCoist has the right attributes to be a success in the job.
"We've seen him (McCoist) lose it a few times and it's not a pretty sight.
"He's defintely got the respect from the dressing room and a good mentor so I think he'll do well," said McCulloch.
McCoist spent 15 years as a player at Ibrox and, after ending his playing career with Kilmarnock, worked in television before starting his coaching career as one of Smith's assistants when the latter was Scotland's national team coach.
And McCoist joined Smith, who first managed Rangers in the 1990s, in returning to Ibrox in 2007.
"Coisty is Mr Nice Guy to everybody, the outsiders," McCulloch told BBC Scotland.
"But for the boys in the dressing room, they'll be first to tell you he's got the side to him that no player wants to see and that's how he'll get respect from the dressing room."
The SPL title initiative swung towards Rangers when Celtic lost to Inverness earlier this month and McCulloch believes it was the Ibrox side's desire more than their experience that made them champions again.
"We've taken a lot of stick this season," said the 33-year-old. "The boys personally and as a group have had a lot on their plate and as group we've stuck together, we're all really close and we just want to win, we're all winners.
"It's happened all season with the media that's built up Celtic and maybe been a little bit down on Rangers. I'm not going to say disrespect but I they've been a little bit down on the Rangers team, the Rangers players, individuals and it's just kept us quietly confident that we can go and do a job.
"Obviously we got a lift from the Inverness game, which was massive. To go and win the league from that was great.
"When it was out of our hands, we knew what we had to do, we just had to go and win our games and hope we'd get a result and, after the Inverness game, basically I think there was no looking back.
"If you want to win the league, desire wins you the league. Obviously it helps a little bit if you've done it before and been through the course of the big pressure games but I think desire and the will to win is the main point of us winning the league.
"That's what Walter Smith has instilled in all the players, a total will to win.
"We just hate getting beaten. In training everyday, nobody likes losing, there's an argument on our training ground every single day and I think that can only be a good thing."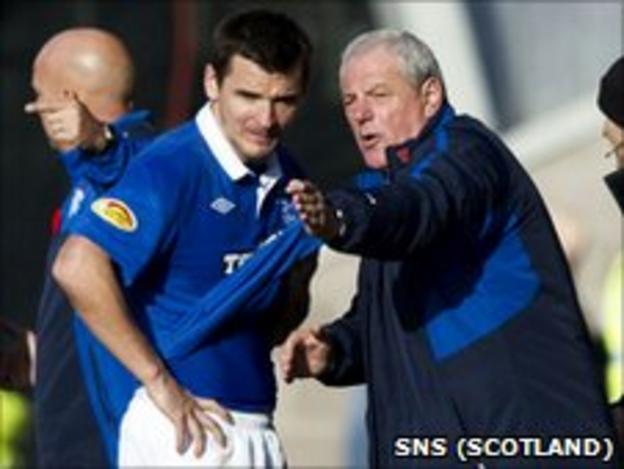 As well as Celtic's loss to Inverness, McCulloch believes Rangers' triumph over Celtic in the Scottish League Cup final was a key turning point.
Rangers went into the game having lost three of the previous Old Firm derbies but won 2-1 at Hampden.
"That was a big game for us after losing the Old Firm games, it was massive for us," McCulloch said. "If we lost that then all momentum was lost.
"Just before that was when we were probably at our lowest and to win that cup it gave the club, the fans, everybody a massive lift. It managed to kick us on a little bit.
"It took a lot of pressure off us. After all the Old Firm games and what had gone on, even what was going on off the pitch and what was going on at the club with the takeover as well, it was a massive, massive lift."
Meanwhile, McCulloch believes Rangers should honour Smith, who has won 21 trophies across his two spells as manager.
"The respect he has shown in winning and defeat, he's been a credit to Rangers, he's been a credit to himself and his family," added McCulloch. "All the players can't speak highly enough of him.
"He's due that statue outside Ibrox and hopefully they'll put it up soon."