Players eye Rangers stay after retaining title
Last updated on .From the section Football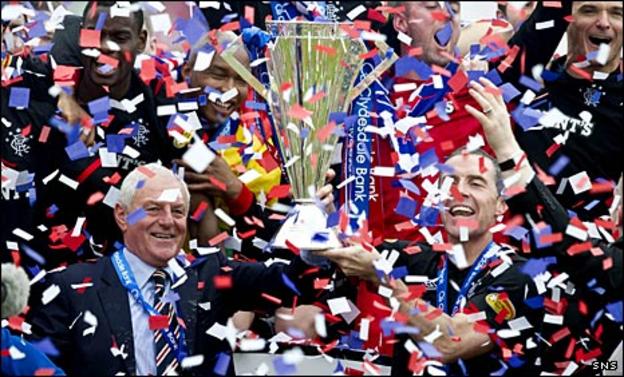 Madjid Bougherra, Allan McGregor and Sasa Papac all hope to remain with Rangers next season despite speculation about their futures at Ibrox.
Veteran captain David Weir has hinted that he might want to extend his stay.
And outgoing manager Walter Smith has predicted that striker Nikica Jelavic will not be sold during the summer.
"I don't think it would be the brightest thing for the new owner to sell one of our best players," said Smith after Rangers' title win.
"Especially when everyone expects him to spend money."
Rangers secured the title on the final day of the season with a 5-1 hammering of Kilmarnock to finish a point ahead of Celtic and Smith paid tribute to the part played by the £4m summer purchase who missed much of the start of the season through injury.
Previous top scorers Kris Boyd and Kenny Miller were both sold in the last year and a half as Rangers sought to tackle their debt problem under pressure from their bank.
"Kris Boyd could score, Kenny Miller could run through defences and, in the later stages of his time at Rangers, he was scoring a lot of goals as well," said Smith.
"But Jelavic gives us a mix of everything. He can run through, he can link up, he can score and it has brought a different dimension to the team.
"He just gives us something different up front - something we've never really had before."
As he prepares to stand down after winning his 10th title - a third in a row - and 21st trophy for Rangers, Smith urged new owner Craig Whyte to give new boss Ally McCoist sufficient funds to strengthen a threadbare squad.
"Unless there is a significant investment then the team will stagnate," said Smith, who had long warned of troubled times next season unless new funds were found.
"They just can't continue to do what they have been doing at the present moment.
"Hopefully, that will be looked at by the owners.
"But I don't think the new owners would have bought the club unless they were happy to put money into the team.
"The team needs a boost. He would be blind if he didn't realise that."
Until Whyte's recent takeover was completed, it had been predicted in some quarters that prize assets like Bougherra, McGregor and Jelavic would be sold, while out-of-contract players like Papac could also leave.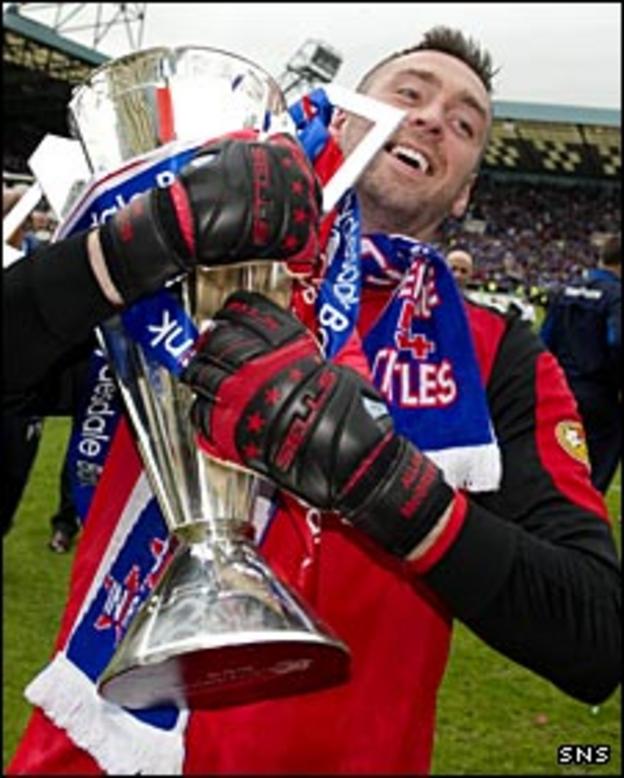 Reports had suggested that Bougherra was looking for a lucrative transfer - but, in the immediate aftermath of the title win, the Algeria defender told BBC Scotland: "I have a one-year contract, so I stay."
McGregor, who remains under contract, has been linked with a number of top English clubs.
"They know what I want to do," said the Scotland goalkeeper. "It is quite obvious what I want to do.
"Hopefully the new owner will be good for the club and I'll maybe speak to him shortly.
"I've still got two years left here and obviously I would love to extend that and stay here because you cannot beat moments like this. It is an incredible feeling."
Papac, who joined from Austria Vienna in 2006, was also keen to be part of McCoist's rebuilding.
"I hope I can sign another contract too because I have given everything to the club for five years and now I have eight trophies as a reward," said the Bosnian defender.
"We are still in talks with Rangers, so we will see what will happen in the next couple of days and I hope I can stay."
Smith had signed Weir from Everton initially as a stop-gap measure in 2007, but the former Scotland defender could play on despite having turned 41.
Asked if he might continue next season, he told BBC Scotland: "Oh, I don't know. You can't fail to fancy it on a day like this."
However, chief executive Martin Bain did not wish to comment on his own future following Whyte's takeover, which has already led to the departure of two members of the Ibrox board.
He said he had "no idea" if there would be further changes, preferring to concentrate on how the title win would improve Rangers' finances and boost McCoist's budget.
"It is obviously wonderful as we get a crack at the Champions League qualifiers next year, which you only get for finishing first," added Bain.
"We have a new manager in place for next year in Alistair, who will need all the support he can get - and we're looking forward to giving him that.
"But the club's got a tremendous platform now."