Colin Calderwood is optimistic for future of Hibernian
Last updated on .From the section Football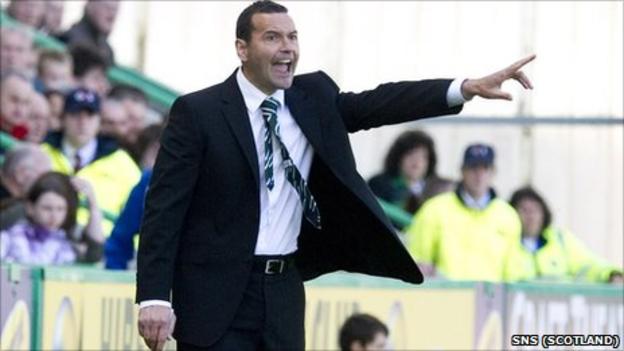 Colin Calderwood remains optimistic about the future at Hibernian despite a miserable 10th place finish in the Scottish Premier League.
"I've got a wonderful opportunity here to shape a club and you don't get that too often," said the manager.
"There's an underbelly of something good but we're not anywhere near the level we should be at.
"I'm really looking forward to a bit of a rest now and a bit of recruitment, which I enjoy."
Calderwood believes he has a core of good young players at Easter Road but is concerned by the lack of mental strength in his squad.
"We need to find a toughness," he told BBC Radio Scotland after ending the season with a 3-1 home defeat to Aberdeen.
"Being ahead would have kept them going, being level - they are still in it, when they go 2-1 down they look like they are carrying the weight of the world on their shoulders."
Hibs led at half time thanks to a cracking volley from Derek Riordan, who is among several first team players moving on.
But slack marking from a corner allowed Josh Magennis to head the Dons level and a quickfire double from Chris Maguire saw the points going to the visitors.
"I thought Aberdeen played better football in the opposing half than we did," admitted Calderwood, who has won just eight of the 32 matches he has overseen for the Edinburgh side.
"We did create opportunities and we've missed them. Therein lies the reason why we lost.
"At 0-0 we miss a real good chance, at 1-0 we miss a good chance, at 1-1, almost straight away we miss an excellent chance."
The final incident Calderwood was referring to was a fluffed effort right in front of goal from on-loan full-back Richie Towell.
"For their first goal, we're defending a long ball and it ends up a corner when it shouldn't be, then not defending the corner kick.
"Not getting back as a unit when the defence were outnumbered is the second goal.
"And the third goal starts with a mistake but ends up with a wonderful strike."
Despite bemoaning his side's defensive frailities, Calderwood believes he has two promising central defenders to work with.
"Paul Hanlon is a talented player," he explained. "And David Stephens will mature into a good centre-half but I'm talking 18 months development.
"They have attributes but they are going to have to be fitter and tactically better and you only get that with game time."
For the first time, Calderwood admitted that Riordan would be leaving and stressed the need to recruit a new forward to replace a player who is now the third highest goalscorer in SPL history.
"The likelihood of Derek staying is small but we have to accept that," he said.
"I've really enjoyed working with him. His goal really exemplified what he's all about. His range of passing is good, our best quality balls came from his crosses.
"Whatever he thinks of himself, I believe he can go on and become a better player."