Walter Smith focus on Rangers title, not farewell
Last updated on .From the section Football
Sunday's title-decider at Kilmarnock will be Walter Smith's final game with Rangers but the manager is adamant the occasion will not be about him.
"On Tuesday night, I got the credit for what has gone previously," said Smith.
"At times, the players' input to that level of success hasn't been fully appreciated and they can cement that by winning on Sunday.
"If we win the game, I would hope the focus of attention would be placed firmly on the team."
The 63-year-old enjoyed an emotional lap of honour after his last match at Ibrox in midweek and is anxious to see the team earn the plaudits this time if they produce the win that would seal a third consecutive championship.
Any slip at Rugby Park would allow Celtic, who are at home to Motherwell, to make up the one point difference that separates the old rivals.
Financial worries before Craig Whyte's takeover was finally completed last week have meant a period of uncertainty for both management and players in recent years.
And Smith says few players would have been willing to endure the difficult circumstances his squad have coped with.
He said: "What's kept them going is what has kept them going over the last two-and-a-half-years - there has been a spirit, there has been a determination and there has been a good level of football. I don't think we can forget that.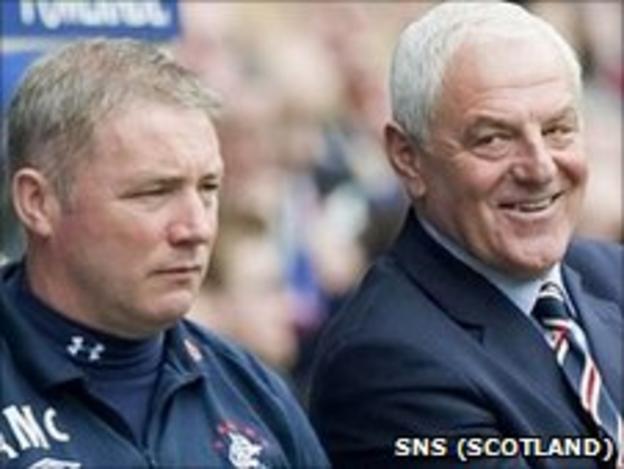 "I sometimes think a number of them don't get the praise they deserve for the level of performance they have turned in.
"Sunday's game is everything for them and there are not many teams who manage to win three championships in a row, no matter where you're from."
Smith is aiming for his 10th title over two spells at Rangers and added: "It's always a challenge, regardless of where you are.
"That's where my situation at Everton helped me a great deal in terms of handling what was happening at Rangers over the period. I learned a lot there.
"But the main aspect, and the main reason we have been successful, is the way the players have accepted the situation that they've been placed in.
"There are not an awful lot of players who would have accepted that as readily as they have and continue to give the level of commitment that they have given.
"While a manager like myself can take the plaudits that were much appreciated on Tuesday night, Sunday's game is all about our team."
Despite having worked with talent such as Brian Laudrup and Paul Gascoigne during his first period at Ibrox, Smith insists the class of 2011 are up there with the best he has managed.
"We may not have the sort of iconic names that have played for Rangers teams in the past but we've had a group of players who have given everything for the club to try to make it successful," he explained.
"They have had to put up with being up for sale for two-and-a-half-years, they have seen good players leave the club and they have operated in the circumstance where their own contracts haven't been renewed in the time they would maybe have hoped for.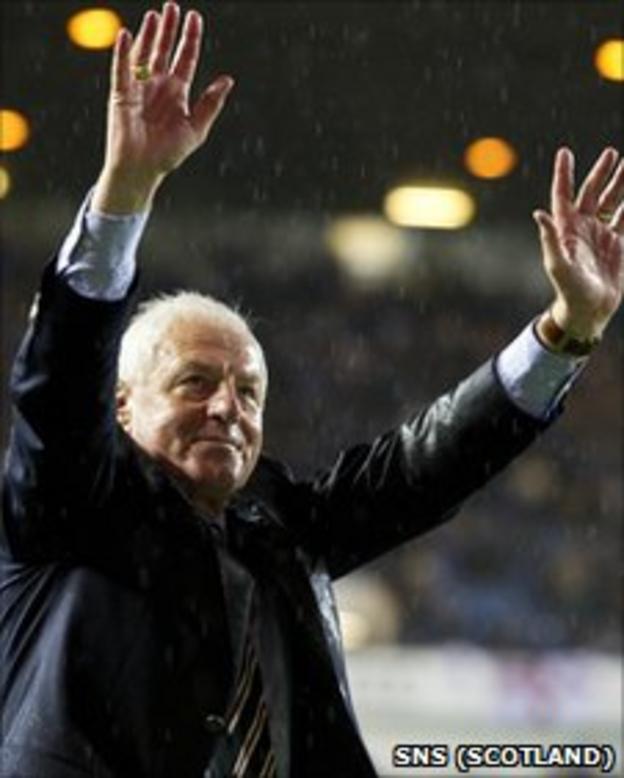 "They have carried on with a level of commitment to the club that's been nothing short of fantastic."
Smith returned to Rangers in January 2007, having enjoyed a hugely successful period at the club in the 1990s.
Reflecting on his time with the Glasgow club, Smith said: "It's a privilege to start with to be asked to become the manager of Rangers.
"When I was asked to be the manager, it was probably the biggest thing that's happened in my career.
"I've been lucky, that's 17 years I've been involved with the club and it's been a relatively successful period for us.
"It's been a huge thing for me, it's been great to be involved with the club for that length of time.
"First and foremost, it's just been a privilege on my own part to have worked for them."
Smith has not ruled out moving on to a new challenge but insisted he does not have any irons in the fire, with regards future employment.
"I honestly don't have any future plans," he added. "I'm not leaving Rangers with the intention of looking for another job. I enjoy the job I've got here.
"This is my choice, it's my decision, which is different from my previous time here and my time at Everton, where I got sacked.
"If someone asks me, then I'll consider it, but I don't go with the intention of working again. Otherwise, I might well have stayed here."