Marseille will appeal Nigerian Taye Taiwo's ban
Last updated on .From the section Football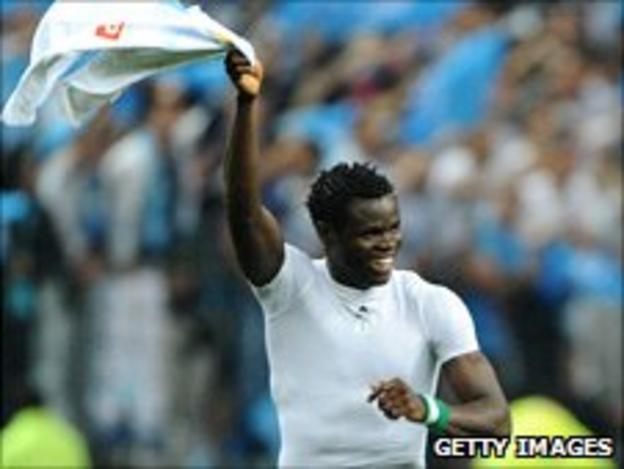 Marseille president Jean-Claude Dassier has said his club will appeal against the one-match ban handed to Nigeria's Taye Taiwo.
Taiwo was suspended after chanting an expletive-laced anti-Paris Saint Germain song with fans after Marseille won the French League Cup last month.
"We're going to appeal, that's for sure," Dassier said on Friday.
Taiwo, who is set to join Italy's AC Milan, was also fined US$28,000 and handed a two-match suspended ban.
He will miss Marseille's final home game of the season against Valenciennes on 21 May, which could be crucial with the club still in the title chase.
The defending champions are second in the standings, four points adrift of leaders Lille with three matches left.
Taiwo earned his ban shortly after Marseille beat Montpellier 1-0 to retain the League Cup trophy at Stade de France on 23 April.
The left-back grabbed a microphone and joined fans in singing an offensive song about Marseille's bitter rivals PSG.
His Cameroonian team-mate, Stephane Mbia, was also given a suspended two-match ban and fined US$14,000 for joining in the chant.
Taiwo's ban takes effect from Monday, meaning the 26-year-old is eligible for Sunday's trip to Lorient.
Yet he will miss the subsequent home match against Valenciennes, so depriving him of a farewell ovation from Marseille fans.
Earlier this week, Milan coach Massimiliano Allegri revealed that Taiwo is set to join the recently-crowned Italian champions on a free transfer in the off-season.
The Super Eagle, a free-kick specialist with a powerful shot, is a fan favourite, having scored 25 goals in 269 games since joining the club seven years ago.