Hearts' Jim Jefferies fears return to perimeter fencing
Last updated on .From the section Football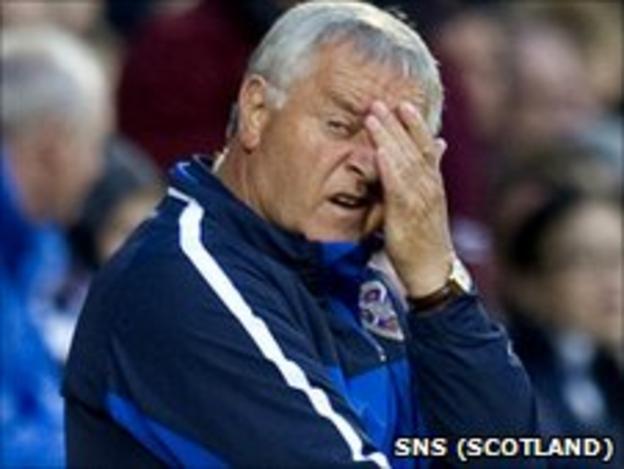 Hearts manager Jim Jefferies fears that it may be necessary to reintroduce perimeter fences at football grounds.
Celtic boss Neil Lennon was attacked on the touchline by a spectator at Tynecastle on Wednesday.
"If it ever got any worse then that might be an option," said Jefferies on the subject of perimeter fencing.
"In countries where it has been a problem in the past that's what they tended to do. It's sad if it gets to that stage."
Jefferies said that he did not fear for his own safety as Lennon was attacked but reiterated his belief that the atmosphere had an unusually poisonous air.
John Wilson, 26, of Edinburgh, has been charged with breach of the peace aggravated by religious prejudice, and assault aggravated by religious prejudice after clambering from the main stand and charging towards Lennon.
No plea or declaration was made in the private hearing at Edinburgh Sheriff Court and he was remanded in custody for further examination of the case.
The incident occurred after Gary Hooper had put Celtic 2-0 ahead after 49 minutes.
An astonishing melee ensued and the intruder was eventually marched up the tunnel by police, but that was not the end of the trouble as some fans in the Celtic section of the ground appeared to fight with stewards and police.
When asked whether he was concerned about his own safety, Jefferies said: "No."
But he added: "There seemed to be this hostile atmosphere. I felt there was some other agenda.
"You always felt there was something ready to kick off.
"The Celtic supporters are always very, very vocal but the other night even before the game started and right through they went through the full repertoire. I've never heard them as noisy as that.
"You just felt there was something brewing.
"But thankfully it never spilled onto the pitch. Even though there were some feisty challenges, the players never responded."
Hearts are continuing to investigate how Wilson entered the ground, but it is believed he is not a season-ticket holder.
Jefferies added: "Things that happened shouldn't happen and we've got to make the right steps to make sure this is sorted out.
"It's very difficult for this football club and the stadium we have to stop one person - how much policing do you put on?"