Rangers manager Walter Smith prepares to bow out
By Keir Murray
BBC Scotland
Last updated on .From the section Football
It's an interesting question - if Rangers win the Scottish Premier League on Sunday, will it be the achievement manager Walter Smith savours most?
Smith, 63, will end his time in charge of the club he supported as a boy when Rangers travel to Rugby Park to play Kilmarnock in search of the three points that would guarantee them a 54th league title.
It would be the 10th championship under his stewardship and his third in succession during his second spell at Ibrox.
Ahead of his final match at Ibrox, the 2-0 win over Dundee United on Tuesday, he admitted that he would feel "a tinge of regret" that his time at the helm was coming to an end.
His lap of honour round the stadium as supporters rose to acclaim his contribution to the club was a powerful sight.
But he managed to keep his emotions in check, with any tears camouflaged by the torrential rain.
Yet in recent months, on the subject of Old Firm matches, of which there have been seven this season, he has been unequivocal - he will be glad to see the back of them.
Smith has done his bit for Rangers.
His stoicism as the heavens opened at Ibrox the other night in many ways summed up what he has brought to the club over the years, but especially in the current campaign.
The bank's influence on boardroom decisions, a small playing squad, a Uefa ban on the club's fans for sectarian chanting, Old Firm touchline spats, government summits, the threat of the club going bust, an inquiry by HMRC, the protracted takeover by Craig Whyte, a resurgent Celtic featuring a raft of new players - Smith has guided the club through a murky season.
Rarely do supporters see him in a state of agitation. In recent years his preferred viewing position at home games has been in the main stand where there is less scope to rant at his players or officials.
Occasionally he has done so - his nose-to-nose argument a few seasons back with Mixu Paatelainen springs to mind - but they are the exception.
There have been barbed comments aimed at match officials from time to time and many an interviewer will have felt the "Walter glare" trained on them midway through a critical question.
But the Glaswegian's demeanour is usually that of the wise old silver fox who has seen it all before in a career stretching back to the mid-'60s when he made his debut for Dundee United.
When creditors Lloyds Bank began to turn the screw on debt-laden Rangers, demanding prudence in the club's out-goings and a paring of costs, it was Smith who had to deal with the effects.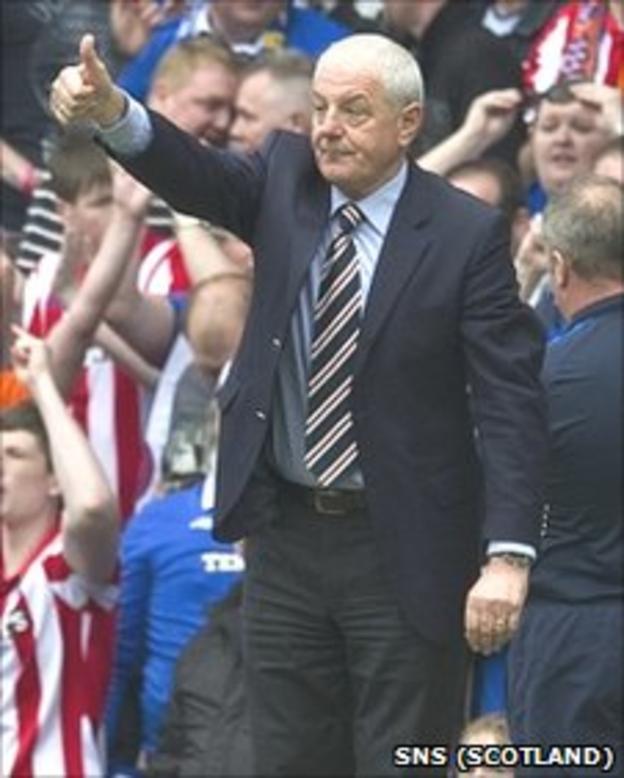 In his first period as manager at Ibrox, when he took over from Liverpool-bound Graeme Souness in 1991, he won seven titles with players of the calibre of Richard Gough, Paul Gascoigne and Brian Laudrup.
But since his return in 2007, after slightly more than two years leading the Scottish national team, the luxury purchases have dried up and he has had to rely on his experience and skill as a coach, man-manager and motivator to eke the most out of a dwindling pool of talent.
In 2008, Rangers reached, and lost, the Uefa Cup final. The Scottish Cup and League Cup were secured but they were pipped by Celtic to the title on the final day of the season.
The fans welcomed the return of silverware after a torrid time while Paul Le Guen was manager, yet Smith faced criticism for his counter-attacking, defence-minded tactics, especially in European competition.
But the manager is nothing if not pragmatic and he can argue that his team played to its strengths - free-flowing football could follow when the purse strings loosened.
Two SPL titles in 2008/09 and 2009/10 propelled Rangers into the money-spinning Champions League. Perhaps in years to come we will discover just how vital this income was in keeping Rangers afloat when debts threatened to spiral.
What is certain is that Continental competition helped the club retain a sheen to attract a buyer when Sir David Murray decided his 20-year-plus period as club owner should come to an end.
This season, Rangers finished behind Manchester United and Valencia in Champions League Group C. They beat Sporting Lisbon before their run in the Europa League was ended by PSV Eindhoven.
Domestically, they won a thrilling Co-operative Insurance Cup final against Celtic but lost to their old rivals in the Scottish Cup.
The SPL title will go to one of Scotland's big two on Sunday.
A victory for Neil Lennon's team at home to Motherwell would demand a win for Smith in his final game at Kilmarnock.
If Rangers cannot match or better Celtic's result, then his time as Rangers manager - a role he described on Friday as being a "privilege" to hold - will end in bitter disappointment.
He says he has no firm plans for the future.
But a final-day win to secure his 21st trophy as Rangers boss would allow him to consider his options in buoyant mood as he leaves behind an astonishing legacy at the club he has served with distinction.