Neil Lennon will not be driven out of Celtic - agent
Last updated on .From the section Football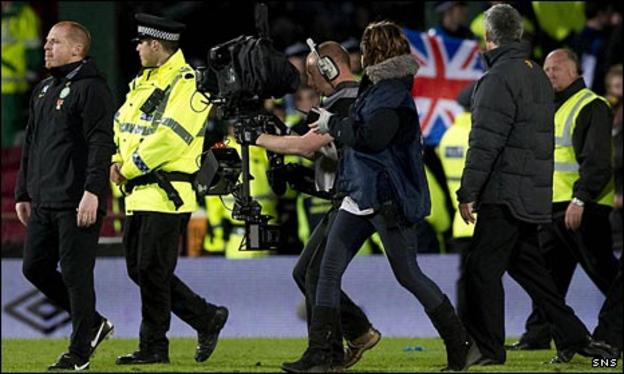 Neil Lennon's agent says incidents like this week's attack by a fan at Tynecastle will not drive the Celtic manager out of the Glasgow club.
"I think now it's getting to the stage where he will sit down in the summer with Celtic and the security and go through the whole scenario of what's going on," said Martin Reilly.
"Obviously, he is a wee bit shaken by what happened.
"But I don't see them driving him out the door."
A man appeared in private at Edinburgh Sheriff Court charged with breach of the peace and assault aggravated by religious prejudice following the incident during Celtic's 3-0 win over Hearts.
Celtic chief executive Peter Lawwell has called for "vile, sustained and relentless attacks" on Lennon and his club to be addressed by Scottish soceity, while the nation's First Minister, Alex Salmond, vowed to continue efforts to stamp out sectarianism.
And the Scottish Football Association, the Scottish Premier League and Hearts have begun investigating the security breach.
"I just can't remember in any football game of a supporter getting into the technical area," said Reilly.
"I know fans can get on the pitch area at certain parts of the game, but to get into the technical area is unbelievable."
On Thursday, Strathclyde Police revealed that they are investigating a suspicious package found at Celtic Park, while two men have been detained by police investigating parcel bombs sent to Lennon.
Reilly admitted that these and incidents earlier in the season were having a "horrendous" effect on the former Northern Ireland midfielder's life, with even his parents being under guard.
"He is a very strong character, but it's getting on now," said the agent.
"These incidents are coming quite frequently now.
"He is going to have to sit down and have a right good think about it and go from there, but I'm sure, once he gets a taste of some success, it'll be a new chapter and he'll just want to get on with it again."
Reilly blamed certain elements of the media for putting the spotlight on Lennon and "trying to drive him out the door".
"All he wants to do is get on with his job, but there is certain quarters of the media that won't leave him alone," he said. "They've always got some agenda against him.
"They are either obsessed by him or have a personal vendetta against him.
"I am not going to glorify who they are, but there are certainly ones out there who constantly write about what he is up to off the park rather than what he is doing on the park as a manager, which has been really successful this season."
Reilly thought that Lennon aroused strong emotions because he was a winner, similar to former Rangers striker Nacho Novo.
"He has got the same kind of thing for the Rangers fans as Nacho Novo had to the Celtic fans, because they are good at their job," said the agent.
"People who know Neil as a person know he isn't the kind of figure that the press are making him out to be.
"Neil is a very passionate guy about football especially and about his family and his country, but there is certain people in the media that just want to write things that are probably not true.
"There is a rule for Neil Lennon and a rule for everybody else. He has brought the fans back to Celtic in their droves and they are singing his name.
"A lot of people say he's no angel, but he doesn't bring a lot of things on himself. He does not bring this on himself."