Hearts boss Jefferies felt tense Tynecastle atmosphere
Last updated on .From the section Football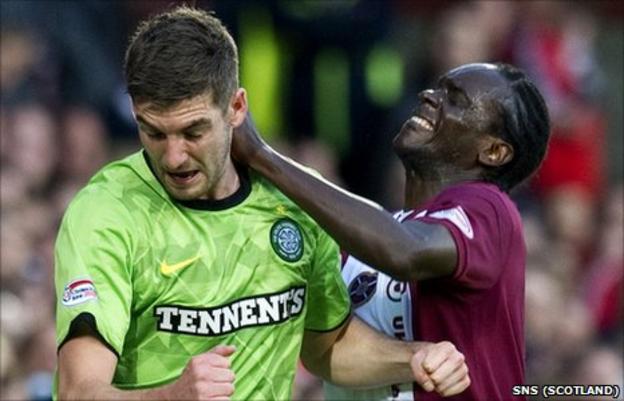 Hearts boss Jim Jefferies says he sensed a tense atmosphere at Tynecastle prior to a fan hitting Celtic boss Neil Lennon during Wednesday's match.
"I've got to be honest, I kind of sensed it right at the start," Jefferies told BBC Scotland.
"It was as if there was something in the air tonight that it was all going to kick off.
"It's sad when it gets to this. That sort of thing is just not called for."
In the build up to the game, Jefferies responded to Lennon's comments about Hearts' commitment in their 4-0 weekend defeat by Rangers.
Celtic won the meeting in Edinburgh 3-0 to take the Scottish Premier League title race to Sunday's last round of matches.
But events at the side of the pitch after Celtic's second goal have overshadowed the result.
"After the game, the first thing I did was go to see Neil to make sure he was all right," said Jefferies.
"He looked a little bit dazed and stunned, as I was, and I think everybody was.
"There've been a lot of incidents this year that warrant a close look at.
"How do they manage to get on? It's a tough job this and there's a lot of pressure in the game now.
"We're not condoning it and the the club will help the authorities to find out why it happened and that the person suffers the consequences."
Hearts' David Obua was sent off in the first half after an assistant referee drew match referee Craig Thomson's attention to what was described as an attempted punch on Celtic's Charlie Mulgrew.
His manager was left angry by that decision and felt that that could have added to the tension at Tynecastle.
"I don't think the linesman after his decision helped the referee an awful lot," said Jefferies.
"To say it was a punch, the linesman wants to have a look at himself. It was just Obua brushing him away.
"For me, that maybe just instigated it a little bit. It was never a punch.
"There were a few feisty tackles on the pitch, but nothing that was getting out of hand."