Forest adventure excites Swansea's Dorus de Vries
Last updated on .From the section Football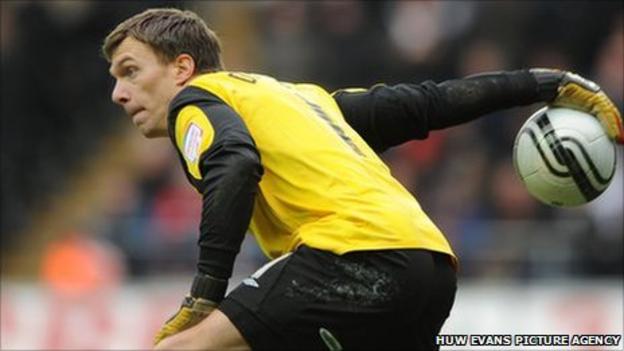 Swansea City goalkeeper Dorus de Vries is relishing the chance to take on Nottingham Forest on Thursday.
A sell-out 30,576-strong crowd will watch the Championship play-off semi-final first leg, with the return at Swansea's Liberty Stadium on Monday.
But the 30-year-old Dutch stopper says Forest's City Ground holds few fears as it is one of his favourite venues.
"I enjoy playing at Forest because I like the stadium, the atmosphere the supporters bring," De Vries said.
"I can't move away [far from the goal] so I'm trying to dodge mobile 'phones and all sorts of candy and all that sort of stuff, so I will probably dodge more of them than the balls!
"But it's going to be a great experience... and to be fair our away support has been tremendous all season for us as well and I'm looking forward to seeing them up there.
"I think there's 1,900 going up there so I'm looking forward to seeing my own supporters cheering our team up there as well."
Although the bookies make Swansea slight favourites, De Vries admits there is little to choose between the two sides.
The Championship rivals each won their home games during the regular league season, Forest triumphing 3-1 at the City Ground in September, with Swansea turning the tables at the Liberty 3-2 in March.
"Notts Forest, because of the side they are with all the experience they've got, they know the situation, they know what's being asked in this," De Vries said.
"We had two different fixtures this season against them. When we played them up there we lost, didn't have much to say in that game but... when we played them up here [Swansea] it was the total opposite.
"So from that point of view it's going to be an interesting two games.
"To keep a clean sheet of course is of major importance and to win would be nice as well."
Swansea finished third in the final table placings, four points behind Norwich City in the second automatic promotion place that would have let Brendan Rodgers' side avoid the tension and drama of the play-offs.
"Of course there's something in the back of our mind that says we were fighting for a long time during this season for second place," De Vries said.
"It was a bitter blow when Norwich took it, but to be fair Norwich deserved their place as well in this league and all credit to them.
"Unfortunately it wasn't us but the facts were simple: we didn't take enough points away from home.
"Although the Liberty Stadium is a great fortress for us, unfortunately away from home we had a little bit of a difficult spell.
"But that is in the past and there's only one way forward and that's on Thursday away to Forest, and that's a game we're definitely looking foward to."
Swansea go into the play-offs unbeaten in four games, with three straight wins in which they scored 10 goals and conceded just one.
Likewise Forest are in great form, unbeaten in four - all four victories - with a goal tally that reads scored 14, conceded five.
In the other semi-final, which gets underway on Friday night at the Madejski Stadium, the form is not so impressive with both Reading and Cardiff City claiming just five points from their final four games.
"We've got a bit of momentum and that's always a good thing," Dr Vries added
"If I look back at Blackpool last year they had some great momentum with a run of 12 or 13 games I think that was massive for them, and it helped with confidence as well."