Play-offs are 'highlight' for Swansea's Brendan Rodgers
Last updated on .From the section Football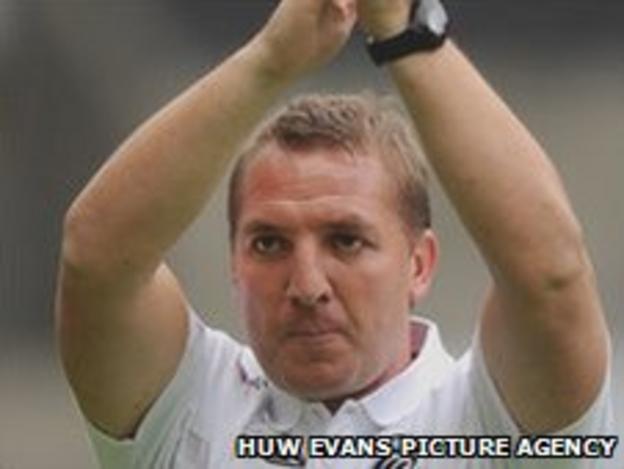 Swansea City boss Brendan Rodgers says that reaching the play-offs is the peak of his fledgling managerial career.
The former Watford and Reading manager led Swansea to third in the Championship, booking a play-off spot and the chance of the Premier League.
Swansea begin their play-off campaign with a trip to Nottingham Forest on Thursday for the semi-final first leg.
"In terms of management this is a highlight for me, this is my first full season as a manager," Rodgers said.
"It seems longer than that but I had only a short time at Watford when I decided to leave, and unfortunately left Reading much sooner than I thought I would.
"So... it's great to be involved in it and the players deserve it, which is the most important thing.
"We're just excited, we're going to embrace it. It's new to us as a group, so... we don't feel any nerves, we just feel we're going to go and enjoy it."
Swansea built a deserved reputation for playing cultured football under former bosses Roberto Martinez and Paulo Sousa.
Rodgers, the Chelsea youth team manager during the reign of current Real Madrid boss Jose Mourinho, has enhanced the esteem Swansea are held in since taking over in July 2010.
The Liberty Stadium side grabbed third spot in the Championship, with a goal difference of 27 that is second only to champions Queen's Park Rangers.
"No one would have predicted we'd be in this position, everyone talked about at least a dozen other teams to be involved at the top end," Rodgers added.
"But for us to finish third is a magnificent achievement and puts us in good form and a good position to go on now.
"These are different sorts of games but we're looking forward to it."
While Swansea hope to win through to the riches of the Premier League, with first Forest and then either Reading or Cardiff City to overcome, Swansea may yet challenge QPR's right to automatic promotion.
The Londoners escaped a points deduction for breaching regulations in the 2009 signing of Alejandro Faurlin.
The club was fined £875,000 after being found guilty of two of the seven charges against them relating to the Argentine midfielder's ownership.
But Swansea chairman Huw Jenkins has said the south Wales side have not ruled out taking action.
"It's obviously something the board and the chairman will look at and see if they need to take it further and I think they're right to do so," Rodgers said.
"It's such a massive amount of money that can change a club and obviously protect the club for many years to come.
"We finished in a position where if there was any misdemeanours that it could impact on ourselves.
"But my only focus is with the games and the board and the chairman will look at that for later."