Steve Foster eager to stay with Mansfield Town
Last updated on .From the section Football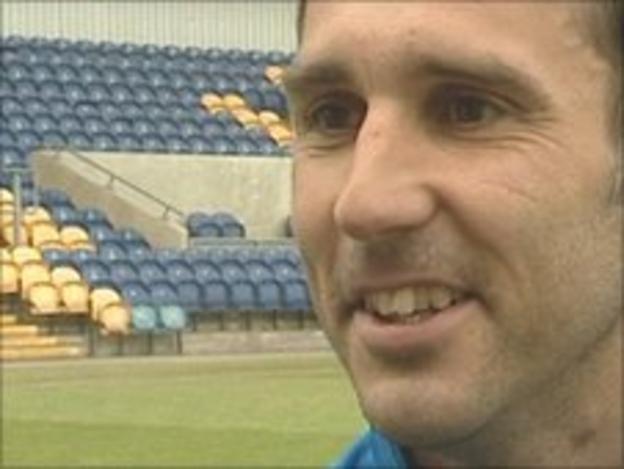 Out-of-contract Mansfield Town defender Steve Foster says he has no intention of retiring and hopes to be offered a new deal to stay at Field Mill.
But Foster told BBC Radio Nottingham: "I said it could be my last game because there was nothing in place but I don't want to go, I want to play on.
"I still feel like the legs work so we'll have to see what happens."
Mansfield-born Stags fan Foster added: "I've got so much love for the club and enjoy playing for them. I love playing football and want to keep going as long as possible.
"We'll see what is said. If it's not meant to be then at least I've finished by playing at Wembley."
Foster said the pain of losing the showpiece final on Saturday was increased because the club is so important to him.
"The fact I am from Mansfield means I know how much it meant to the fans and we haven't delivered," Foster said.
"I had a lot of friends and family there and they probably had a good day until the final kick of the game."
Foster also said the manner of the last-gasp, extra-time defeat was tough to take: "It's gutting. These opportunities don't come along very often.
"We gave everything. The effort was there, unfortunately we didn't have the final finish.
"The season has been disappointing with the league form but we thought we could finish it off and that has happened."
Foster, while eager not to make excuses, also said the club's off-pitch problems had played its part in a difficult season.
The Stags had to contend with a host of management changes - both in and out of the dressing room - and plenty of uncertainty over their Field Mill ground.
"It has been a long, hard season," Foster said.
"The focus has been taken away from what we have to do on the pitch. I'm not making excuses -as soon as you cross the white line you are there to win a football match. But sometimes the preparation, when you have things on your mind through the season, doesn't help.
"But I'm not making excuses. We, as a side, have not done ourselves justice in the league and unfortunately we haven't finished it off with a positive by winning at Wembley."