Blackburn warn against selling tickets to Man Utd fans
Last updated on .From the section Football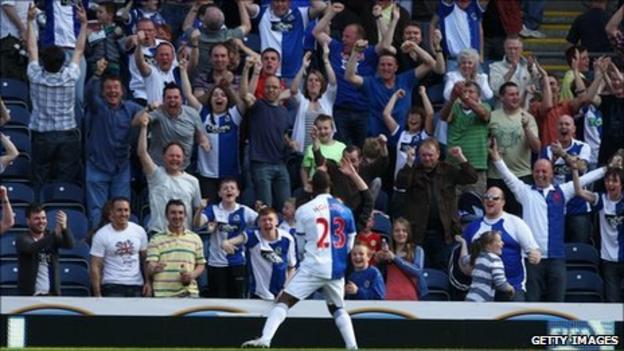 Blackburn are to act against supporters who sell their season tickets to Manchester United fans for Saturday's Premier League game at Ewood Park.
Rovers say tickets are being advertised for sale on the internet and that some are being sold directly to United fans.
United will win a record 19th league title if they avoid defeat at Rovers, who are yet to ensure their own safety.
A Rovers statement said they were fully supported by the police in efforts to minimise the illegal practice.
Blackburn stressed "offenders will face strong and appropriate action".
The statement added: "Rovers have information and intelligence of season-ticket holders selling their tickets directly to United followers - there is even evidence of season tickets being advertised on the internet."
Blackburn managing director Tom Finn told the club website: "This is a very disturbing situation, not to mention a criminal offence and a situation we could well do without leading up to what is a massive fixture.
"We are currently monitoring things very closely and, where necessary, will cancel the season tickets, so denying entry to the stadium on the day.
"We need as many Rovers fans inside Ewood Park on Saturday as we can.
"Fervent home support has worked wonders for us in recent years and we need it again now."
Blackburn are 15th in the Premier League table, three points above the relegation zone with two games remaining.
Their final game of the season on Sunday 22 May is away at Wolves, who are currently 17th in the table, one point above the bottom three.