Mancini says Man City can compete with Europe's best
Last updated on .From the section Football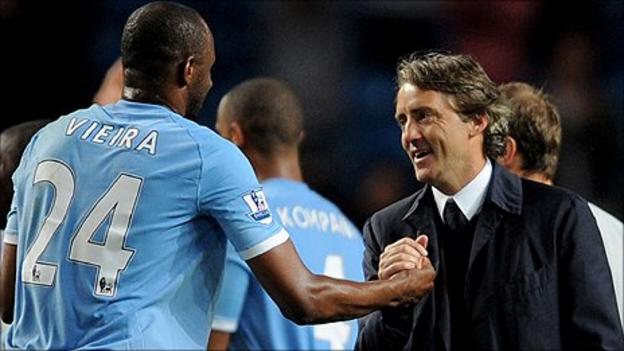 Manchester City manager Roberto Mancini pledged to take on the cream of Europe after the club made it into the Champions League for the first time.
City beat Tottenham 1-0 on Tuesday to ensure a top-four Premier League finish for the big-spending club.
"When I arrived, I said in two or three years Manchester City will become one of the top teams in Europe," Mancini said. "We have everything to do this.
"But I am happy for the supporters and the club first of all."
In an ironic twist, the victory over Spurs came courtesy of an own goal from striker Peter Crouch, who secured Champions League football for Tottenham at the end of last season with a winner at City at the same end of the pitch.
Mancini conceded that the achievement will also relieve some of the pressure on his shoulders from the club's owners, who are starting to see some return on the millions of pounds they have invested.
"When you have a target and get it, it is very important for your job," added the Italian.
"We deserve to be in the Champions League because we were between first and fourth position all season.
"This is the first time [in the Champions League] and we have got it because the players wanted it. We have the players who deserve to play in it."
City could still overtake Arsenal to secure third place in the top flight, which would mean avoiding the qualifying stage and a passage straight into the group stages of Europe's premier club competition.
Mancini's side are two points behind the Gunners, who are struggling for consistency, with two games to go.
But the City boss played down the prospect of overtaking Arsenal and was more keen to concentrate on Saturday's FA Cup final against Stoke at Wembley.
"If we didn't throw three points out of the window against Everton last Saturday, we could probably finish third," he said. "I don't know how we lost this game.
"Now it is difficult. We have two games left. But now it is very important to think about the FA Cup final."
City striker Carlos Tevez came on after 83 minutes of the game against Spurs after having been sidelined since 11 April with a hamstring injury and Mancini is still unsure of the Argentine's role against Stoke.
"I want to take all the time to decide this," said the City boss.
"I don't think he can be 100% ready because he only played for 15 minutes and has only had one week with the team.
"But we have four days, then we need to decide."
Tottenham boss Harry Redknapp was left rueing injury to Gareth Bale and the fatigue of Rafael van der Vaart for his side's dip in form and consequent failure to secure a second successive season in the Champions League.
"The biggest problems in this run where we have fallen out of the top four are that we lost Gareth Bale and Rafael van der Vaart has suddenly become a bit jaded due to the World Cup and not having a pre-season," said Redknapp.
"When they were in top form, we were killing teams off as well as playing good football.
"Not too many teams play better than we do. That means a lot to me. I enjoy watching us play. I would rather that than us play awful football and keep lumping the ball.
"I want to enjoy the last few years I have got in football."