Walter Smith happy at completion of Rangers takeover
Last updated on .From the section Football
Manager Walter Smith has welcomed the completion on Friday of Craig Whyte's takeover of Rangers.
He said: "I think it will bring back a level of stability to the club that was necessary to go forward on the footballing side.
"It has taken a bit of time to come to fruition but it was needed at the club.
"We've had this on and off now for a long period and we have handled that on the football side. It's over now and everybody just has to get on with it."
Smith leads Rangers at Ibrox for the last time on Tuesday when his team take on Dundee United in their penultimate match in their Scottish Premier League campaign.
The hosts require two wins to guarantee the retention of the championship trophy.
The 62-year-old will leave Rangers at the end of the season, hoping to have secured his 10th league title over two spells in charge.
Businessman Whyte completed his £52.5m takeover following six months of negotiations.
With that saga having reached its conclusion, Smith added: "We can put that in the background and concentrate on the fact that we've got two games to win to win a championship.
"Hopefully we can go some way towards that tomorrow night."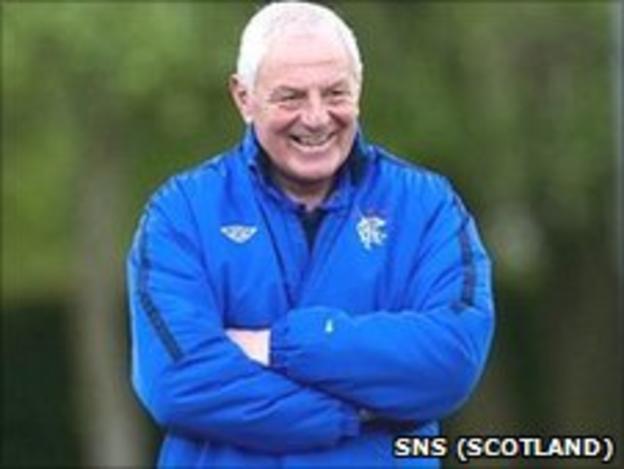 At a Murray Park media conference on Monday, Smith would not be drawn on the reservations voiced by the independent committee of the Rangers board regarding Whyte's ability to provide future finance.
Nor was he keen to comment on Celtic manager Neil Lennon's remarks over the weekend regarding opposing teams' competitiveness in matches against Rangers.
After a 2-0 win for Celtic at Kilmarnock placed them one point behind Rangers in the title race, Lennon said: "What we are looking for is somebody to compete and give Rangers a game.
"There has not been much evidence of that in their previous two games."
In those matches, Rangers beat Motherwell 5-0 at Fir Park on 30 April and put four past Hearts at Ibrox without reply on Saturday.
Smith's reaction to Lennon's remark was blunt. "I've got no comment to make on that at all," he said.
"The games that we've had have been difficult enough games for us and that's all I want to say at the present moment."
Dundee United still have a chance, albeit slim, of overtaking Hearts to finish third in the SPL.
They are five points behind the Tynecastle side with two games to play and Smith knows Peter Houston's side will provide a stiff challenge - they beat Rangers 3-2 at Ibrox on 2 April.
"Dundee United have won here at Ibrox this season so that's how difficult a game we will face," Smith added.
"Dundee United played exceptionally well in the game we lost, although I would blame ourselves for the defeat as much as anything else.
"It was an excellent game and Dundee United played very well.
"Dundee United have probably been, in the second half of the season, the best of the teams outside of the Old Firm and Peter Houston deserves a great deal of credit for the way he has handled the team, not just now, but since he took over from Craig Levein.
"Everyone at Rangers knows the difficulty of the game we are going to have tomorrow night and that's enough for us."
On his final Ibrox match, Smith preferred to concentrate on securing a win.
He said: "Maybe there will be a little tinge of regret that it will be my last game but that's about all.
"The most important thing is that we win. My own focus is the same as the players', on winning a championship. If we can do that, we will all be pleased at the end of the season."
Whyte, meanwhile, has told the Rangers website that his goal, apart from winning the title in the coming week, is to retain the bulk of the playing staff at the club for Ally McCoist when he takes over from Smith.
"I want to keep as much of the existing squad together as we possibly can," he said.
"We will look carefully to see if there are better contracts available for players to remain here because I want to keep the best players here and we have the budget to do that.
"I want to sit down with Ally - and I will be doing that this week. I want to know what his hopes and aspirations are for the team and what he feels he needs for the team for next season.
"I have said before that we will spend £25m over five years on the playing squad and I need to speak with Ally to see if that needs to be front-ended.
"So maybe we can spend a little bit more for next season if that is necessary."