Eight leave in Northampton Town exodus
Last updated on .From the section Football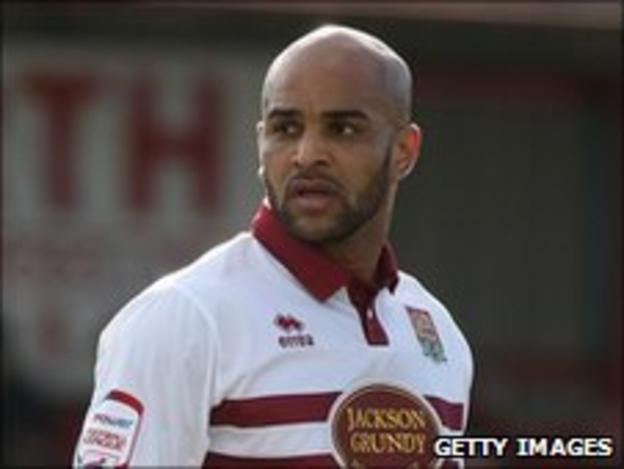 Northampton Town have told eight players they will not have their contracts renewed, while Ryan Gilligan has been made available for transfer.
Paul Rodgers, Marcus Hall, Abdul Osman, Courtney Herbert, Leon McKenzie, Alex Konstantinou, Seb Harris and Francis Laurent have all been released.
Billy McKay, Paul Walker, Kevin Thornton, Guillem Bauza and Greg Kaziboni have been offered new deals.
Assistant manager Malcolm Crosby will also leave in the summer.
On those players offered new deals, boss Gary Johnson told BBC Look East: "So as long as Thornton comes back fit, healthy and athletic looking, he'll be offered something.
"Bauza goes back to Spain on Friday, so he needs to tell me whether he's going to take up the offer.
"He's expressed to me that he wants to be here, he's enjoyed the fans and the regime.
"[Paul] Walker and McKay have already taken up their offers and they're young lads we need to see more of."
Former Darlington forward Tadhg Purcell is under contract and should get his chance under Johnson.
"Come Christmas, we might be saying 'what a great signing', but I can't see him being around until then. Hopefully we've got an Alan Shearer when he does get himself fit."
Boss Gary Johnson said he would look at the possibility of bringing loan players Ben Tozer, Byron Webster, Steve Collis and Nana Ofori-Twumasi back to Sixfields - but Jamie Reckord will not be returning.
Chris Dunn, Dean Beckwith and Liam Davis have been told they need to decide whether they feel their futures are at the club.
All players that have been offered deals have until Friday to give their response.
Michael Uwezu, who is out of contract in June, has not been offered new terms but has been invited back for pre-season training.
McKenzie was the Cobblers' top goal-scorer this season, with 10 goals in 27 games, but the former Norwich City man has been deemed surplus to requirements.
"We want to be in the higher reaches of League Two very quickly next year, and I know the players I want to bring in, with two or three hot targets. So I need to leave space. We're going to need to bring in 10 to 12 new players.
"Leon has had his injuries and you can't guarantee he'll play enough games."
McKenzie had tweeted about his departure earlier in the day.
"Just going to have a few weeks' rest, obviously parted with Northampton now so see what happens in the summer," he said on his Twitter page.
And Gilligan, a six-year servant for the Cobblers, tweeted: "Massive thanks to the NTFC fans for their support over the years!
"Great club and I'm sure they will be up there next season."