Barca's Pep Guardiola hails Man Utd as 'extraordinary'
Last updated on .From the section Football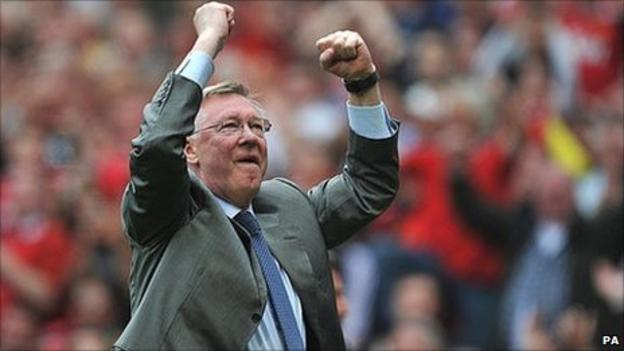 Barcelona boss Pep Guardiola called Manchester United "extraordinary" as the plaudits rained in on Sir Alex Ferguson's team after they moved within a point of a historic 19th title.
Sunday's 2-1 win Premier League victory over Chelsea took United to within a point of the milestone, which will see them overhaul Liverpool's record.
And Guardiola, whose side face United in the Champions League final on 28 May, said: "They have a great squad.
"A great team, extraordinary players."
Man Utd won through to that Champions League final meeting with Barcelona with a 6-1 aggregate victory against Schalke 04 in the semi-final, a win sealed by a 4-1 win at Old Trafford with a team consisting largely of fringe players.
Rio Ferdinand, Nemanja Vidic, Michael Carrick, Ryan Giggs, Park Ji-sung, Wayne Rooney and Javier Hernandez were all given the night off as United eased through the semi-final, second leg clash.
That prompted Guardiola to add: "They played a Champions League semi-final with a team full of reserves and they won 4-1 - that says everything you need to know about the quality they have."
All of Ferguson's key men returned at the weekend for the crucial home match against Chelsea as United produced arguably one of their finest performances of the season to all-but seal a 12th Premier League title.
That ensured a point from their last two games - away at Blackburn and at home to Blackpool - will kill off Chelsea's title hopes and return the Premier League trophy to Old Trafford.
It will be Ferguson's 12th league title with Man Utd since joining them as boss in 1986 while he has also won the FA Cup five times, League Cup on four occasions and Champions League twice.
Still, Tottenham manager Harry Redknapp believes this season's success will rank highly in the list of Ferguson's achievements.
"This has got to be up there with the best of what Ferguson has won," he said on Match of the Day 2.
"A couple of years ago Cristiano Ronaldo left, Carlos Tevez left and you looked at them and you thought 'this is not one of the great Man Utd teams'.
"But this team has a spirit about them and against Chelsea - again - they produce a performance just when you wanted it. The manager's fantastic. No other manager could have done with United what Sir Alex has done this season."
Those sentiments were echoed by Match of the Day pundit Alan Hansen, who added: "If Sir Alex had have been the manager of any of the top four this season he'd have won the title. He is unparalleled in English football."
And former Man Utd striker Dwight Yorke rubbished suggestions that Ferguson may opt to retire should his side go on to beat Barcelona at Wembley later this month and seal the Premier League and Champions League double.
"I was there [at the club] two days ago... and Ferguson's enthusiasm hasn't changed, his passion hasn't changed and his desire to win and break records has not changed," Yorke told BBC Radio 5 live.
"He will continue for as long as he can carry on."
Another ex-Manchester United player Gary Neville, too, insisted retirement will not be on Ferguson's mind.
The defender, who only quit football in February after almost 20 years at Man Utd, told BBC Radio 5 live's Sportsweek programme: "You're not dealing with the type of animal that deals with 'end of the goal' things, be it the 19th title or fourth European Cup - that's just not the way this guy works.
"He achieved everything he could have in the game 10 years ago, five years ago. You could have argued at many points during his Man Utd career - the treble in 1999, the Double in 1996, his first title in 1993 - that his work at the club was done.
"But he just feels his job is never complete. The job at United is never complete - it goes on forever."