Arsene Wenger gives FA Jack Wilshere burnout warning
Last updated on .From the section Football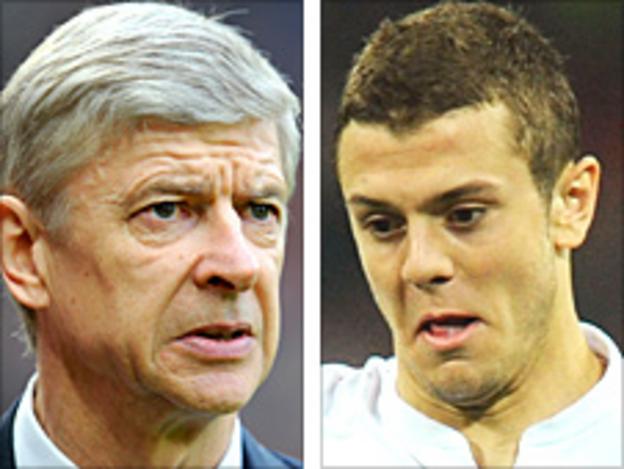 Arsenal manager Arsene Wenger has said the Football Association must handle Jack Wilshere's England Under-21 appearances in a "responsible way".
"I would never say 'Wilshere cannot play for England'," said Wenger.
"It is the federation's decision and the federation has to act in a responsible way."
Wilshere has played more than 40 games for Arsenal this season and was named the Professional Footballers' Association young player of the year award in April for his outstanding performances.
The teenager has also earned four full international caps and established himself in Fabio Capello's side, prompting Wenger to question Wilshere's involvement with the Under-21s.
Capello is likely to include the Stevenage-born Wilshere for the European Championship qualifier against Switzerland at Wembley on 4 June, a week before the England Under-21 side kick off their campaign in Denmark.
And Pearce indicated Wilshere was happy to feature for the Under-21s in a squad which also includes Liverpool's record £35m signing Andy Carroll, who has also been capped at senior international level by Capello.
However, Wenger is concerned Wilshere could also feature in England's friendly against the Netherlands on 10 August and the Euro 2012 qualifiers against Bulgaria and Wales in early September, suggesting he should be rested for those international fixtures for fear of burnout.
"I educate English players to play for their country, if they can, but I would ask Fabio Capello to consider the consequences of a boy who is 19 years old who has played around 50 games at the end of the season, who has played for the first team and then a tournament on the back of it," he said.
"What will the consequences be for the next season? I don't know but I feel the youth system is there to promote the players to play in the top team.
"You cannot ask Jack if he wants to play - do you really think he will say no? I don't think that's realistic.
"I am happy that he wants to play every single game for his country.
"The question raised by him playing are the consequences for the country, for England."