Wrexham players froze against Luton, says Dean Saunders
Last updated on .From the section Football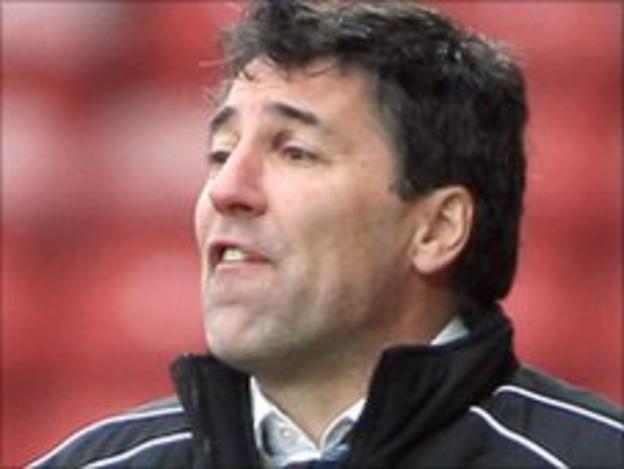 Wrexham manager Dean Saunders said his players froze on the big occasion after losing 3-0 to Luton Town in the Blue Square Bet Premier play-off sem-final.
The Dragons conceded three goals in the opening 35 minutes of the first leg at the Racecourse on Thursday.
"I'm not angry, I just feel a bit sorry for them really because they've just not turned up," said Saunders.
"For some of them it was the biggest game in their career, and some of them were like rabbits in headlights."
Luton, who finished three points above Wrexham in the table, took a firm grip of the tie with a devastating 18-minute spell in front of over 7,000 spectators.
Alex Lawless struck first with a superb 35-yard low shot after striding forward unchallenged from the halfway line.
Claude Gnakpa smashed a second into the top corner from an acute angle before an unmarked Ed Asafu-Adjaye scored from a corner.
"The first goal was a foul on the halfway line, definitely," claimed former Wales, Liverpool and Aston Villa striker Saunders.
"And then the lad's run through and struck it from a long way out. I'll have to have a look at it again because I thought Maxi [goalkeeper Chris Maxwell] might have got to it.
"The second goal was from a throw in over the left-hand side of the pitch and they managed to get the ball out to the right winger, who was one-v-one with Neil Ashton and he just beat him and smashed it into the roof of the net. He [Ashton] has got to do better than that.
"The third goal was from a corner, the lad's come up late, he's had a touch in the box and still had time to scuff it in the corner.
"But at least we came out in the second half and didn't concede another goal."
Despite the crushing defeat Saunders, whose future at the troubled club remains in doubt, refused to start contemplating another season in the Conference.
Although conceding the odds are stacked against his side, the manager stressed an early goal for Wrexham in the second leg on Tuesday would put them right back in contention.
"I'm thinking about how I'm going to lift this group of players and how we're going to score three goals at Luton," said Saunders, who was forced to contend with the threat of a winding up order hanging over the club for the past weeks.
"We're capable of doing that. We went 3-0 up at Cambridge within 20 minutes. We've got five days now to think about it and re-group, and go there with a positive attitude and try to get in front."