David Murray ends a 23-year association with Rangers
By Andy Burke
BBC Scotland
Last updated on .From the section Football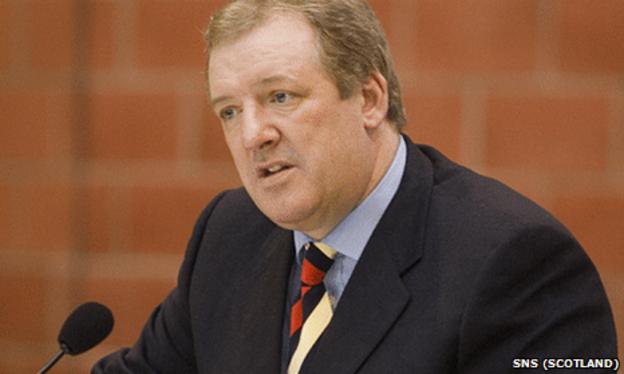 They say a week is a long time in football, so quite how Sir David Murray sums up his spell as Rangers owner only the man himself could say.
Craig Whyte completed the protracted, and at times painful, negotiations this week to become the new majority shareholder at Ibrox and brought to an end Murray's near 23-year ownership of the club.
Rangers have came a long way under the steel magnate's stewardship, but in some respects they bear many of the hallmarks of the club Murray bought for £6m from Lawrence Marlborough in November 1988.
Back then, a transitional period was taking place at Ibrox, with the arrival of Graeme Souness as manager sparking a revolution in Scottish football. Souness lead Rangers to the title in 1987, his first season in charge, but this was their first championship in nine years.
The following season, Celtic comfortably won the title ahead of Hearts, with Rangers finishing a distant third.
The team, just like the present-day squad, were in need of a cash injection.
Once Murray, who previously made an unsuccessful bid to take control of Ayr United, had secured power in Govan, he maintained Souness' policy of signing top international stars from south of the border.
Before Murray's arrival, Rangers had taken advantage of the post-Heysel ban on English clubs entering European competition by snapping up Terry Butcher, Trevor Francis, Ray Wilkins, Mark Walters and Gary Stevens.
Top English clubs struggled to compete and Murray financed the arrivals of Trevor Steven and Mark Hateley, among others, during this period.
After Rangers recaptured the league title in 1989, Murray sanctioned what was, and remains to this day, the most astonishing transfer in the history of the Scottish game - the signing of Maurice Johnston.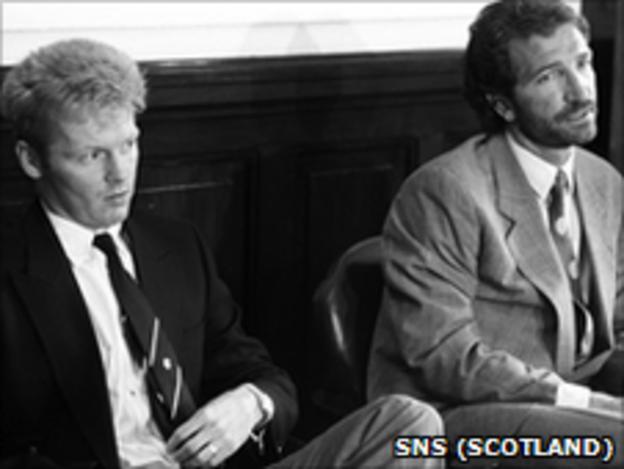 Johnston was the flame-haired Scotland international who was a proven goalscorer and already a hero in Glasgow - to the fans of arch rivals Celtic.
He had moved to Nantes after a successful spell at Parkhead and, when the time arrived to come home, it seemed a natural move for him to return to Glasgow's east end.
Indeed, Johnston was paraded by then Celtic manager Billy McNeill and "MoJo" appeared thrilled to be back in the Hoops.
However, no contract was ever formally signed - and Souness and Murray pounced to offer Johnston more money to cross Glasgow's great divide.
The signing flew in the face of almost 120 years of tradition at Rangers, a tradition that dictated that the club rarely signed Catholic players.
Together, Johnston, Souness and Murray had broken down a significant barrier while also driving a dagger into the heart of their old rivals.
This signalled the beginning of the most successful period in Rangers history; with Souness attracting top-quality players and Murray bankrolling the transfers, it seemed like the perfect fit.
The lure of returning to take over the club where he won three European Cups proved too strong for Souness though, and in 1991 he departed to take over from Kenny Dalglish at Liverpool.
Resisting the temptation to scour England or further afield for a big-name replacement, Murray promoted from within, handing Walter Smith, Souness' trusted assistant, his first crack at club management.
It is a decision every Rangers fan is thankful for to this day.
Smith carried on seamlessly from where Souness had left off, guiding Rangers over the line in 1991 and the following season, then to a domestic treble in 1992/93.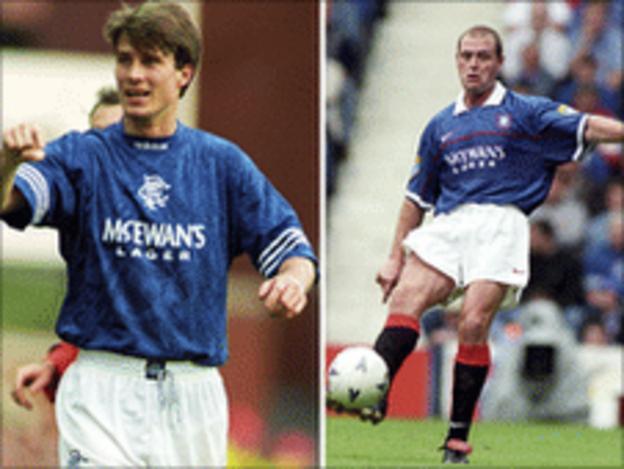 It was during this campaign that Murray's appetite for success in Europe was whetted by the side's thrilling run in the inaugural Champions League.
Rangers were a match for the continent's top teams and went agonisingly close to reaching the European Cup final, losing out narrowly in the group stage - the winners of the two groups went straight into the final - to Marseille, who went on to win the competition amid accusations of bribing referees and opposing teams.
Smith continued to deliver domestic silverware, with only a shock Dundee United win in the Scottish Cup final denying Rangers successive trebles.
Murray continued to back his manager in the transfer market too, paying a British record fee of £4m to sign Duncan Ferguson from United in 1994.
But, despite securing six league championships in a row, Murray had eyes on Europe's top prize: the Champions League.
To this end, Murray looked to entice stars from the continent to add the necessary skill and experience to deliver the greatest trophy in club football.
A landmark signing was world-renowned Danish star Brian Laudrup in 1994, followed by the sensational arrival of Paul Gascoigne in the summer of 1995.
Smith blended his string of foreign stars with a strong core of home-grown players, such as the free-scoring Ally McCoist, midfielders Stuart McCall and Ian Durrant, defenders Richard Gough and John Brown, all in front of the incomparable goalkeeper Andy Goram.
The anticipated assault on Europe failed to materialise, however, with a succession of underwhelming Champions League campaigns leaving Murray and Smith frustrated.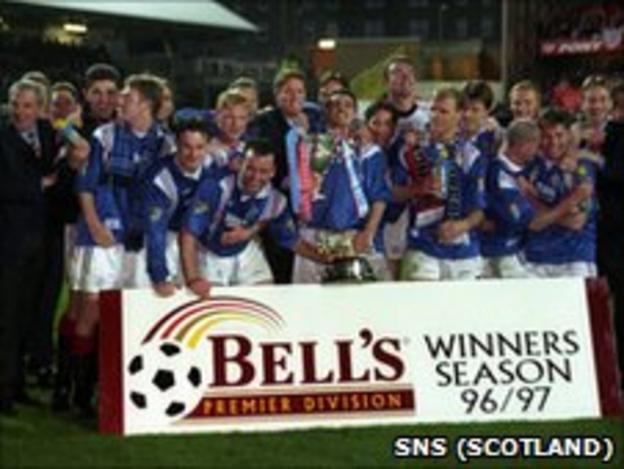 Smith still had a team to strike fear into the rest of Scottish football, however, and focus soon turned to equalling Celtic's record of nine league championships in-a-row.
Rangers held off a resurgent Celtic side, managed by the late Tommy Burns, to win their eighth title in-a-row in 1996 and, the next season, Murray witnessed the landmark ninth championship victory on the trot.
Wim Jansen's Celtic prevented Rangers from eclipsing their record of consecutive league championships, coming out on top in a thrilling title race that went down to the last day of the 1997/98 season.
With this, Smith departed from the manager's position and Murray appointed the first foreign manager in Rangers' history, Dutchman Dick Advocaat.
With the "10-in-a-row" issue now consigned to the past, progress in Europe was firmly back on the agenda. Murray handed Advocaat tens of millions to bring in a raft of stars, with notable arrivals during his tenure including Giovanni Van Bronckhorst, Andrei Kanchelskis and Ronald de Boer.
The Ibrox chief shocked Scottish football when he sanctioned the signing of Tore-Andre Flo for a mind-boggling fee of £12m, a club-record fee that is unlikely to ever be matched.
Flo, despite a decent scoring record, largely failed to justify the huge price tag, and the deal is still held up by some as evidence of Murray's lavish spending contributing to the club's current financial plight.
Although Advocaat's side brought some stirring European nights back to Govan, and largely dominated the domestic scene, they ultimately failed to make the latter stages of the Champions League during the Dutchman's reign.
Advocaat departed in the wake of Martin O'Neill's transformation of Celtic from also-rans into treble-winners, making way for Alex McLeish.
Murray realised at this stage that the financially gung-ho policy that had defined his reign - he famously vowed to spend £10 for every fiver spent by Celtic - had to be curtailed amid enormous debts at the club.
McLeish worked miracles to deliver championships in 2003 and 2005 while vastly reducing the club's wage bill, but Celtic took advantage of Rangers' inability to compete in the transfer market by winning six titles in eight years.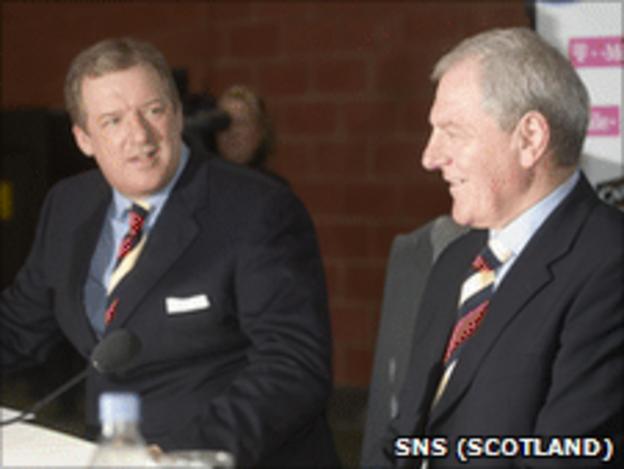 When McLeish left Rangers, Murray felt he had pulled off a major coup for the club by capturing former Lyon boss Paul Le Guen, despite interest from several leading clubs around Europe.
Le Guen's spell in charge proceeded to be nothing short of a disaster and Murray turned to trusted lieutenant Smith to replace the Frenchman in January 2007.
Smith guided Rangers to the Uefa Cup final in 2008, and is on the brink of delivering his third consecutive SPL title, despite having very little money available for transfers and wages.
Rangers have endured a decade of down-sizing on the back of more than 10 years of unprecedented success when money was seemingly no object.
Murray let it be known as far back as 2006 that he would be willing to sell Rangers and twice stood down as chairman, but prospective buyers have been thin on the ground.
Now, after nearly 23 years at the helm, Murray no longer owns Glasgow Rangers.
When analysing his legacy, Murray can point to the superstar players he put into Rangers jerseys, the millions of pounds of his personal wealth he committed to the club and the numerous trophies won under his leadership.
His detractors will point to one thing - the financial mess that has threatened the club's very existence.
Rangers fans may well wonder as they look back on the era of Sir David Murray at Ibrox, was it worth the ride?