Tactical mistake will haunt Jose Mourinho
By Pat Nevin
Ex-Chelsea and Scotland winger & BBC Radio 5 live pundit in Barcelona
Last updated on .From the section Football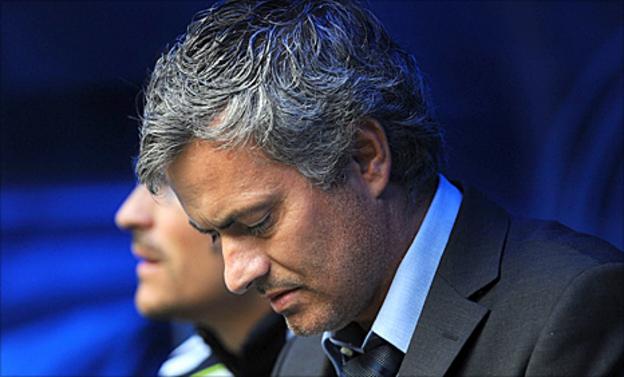 It goes to show what high standards we judge this Barcelona team by when the 1-1 second-leg Champions League draw against Real Madrid is not what we would describe as a "vintage" performance.
Midfielders Andres Iniesta and Xavi Hernandez were not at their best but Barca still had periods when they passed Real off the park.
If you make a mistake and get yourself half-a-yard out of position against Barcelona, it's not a question of if they - Xavi, Iniesta or Lionel Messi - will get you, they will. They find that defensive gap and make good use of it.
A perfect example was the pass from Iniesta to set up Pedro's stunning opening goal at the Camp Nou. Very few players at the top level could conjure a pass like that. How many players in the world could have seen that pass?
Real are an incredible team with some very good players but I reckon they had about 30% of possession at the Camp Nou. However, they showed some attacking intent in the second leg and were much closer to Barcelona than they were in the first.
And that raises the question: "Was Jose Mourinho far too negative at the Bernabeu last week?"
They had to take something into a hostile stadium to stand a chance of walking out at Wembley for the final later this month. But, from a 2-0 first-leg deficit, there was almost no way Real could win this tie.
Maybe Mourinho is partially to blame. He had sent his team out at home to defend and sneak a 0-0 draw or a goal on the break - and he paid for his negative tactics.
As for Barcelona, after their slightly ugly performance at the Bernabeu last week, Pep Guardiola's team wanted to be remembered for their flair on Tuesday. As a result, there were not as many histrionics - Javier Mascherano aside.
There was also a huge amount of pressure on Barcelona - everyone loves to watch them play football - but the better team won. Nothing more complicated than that.
Pat Nevin was talking on BBC Radio 5 live.