Chelsea luck against Spurs masks deeper problems
By Chris Whyatt
BBC Sport at Stamford Bridge
Last updated on .From the section Football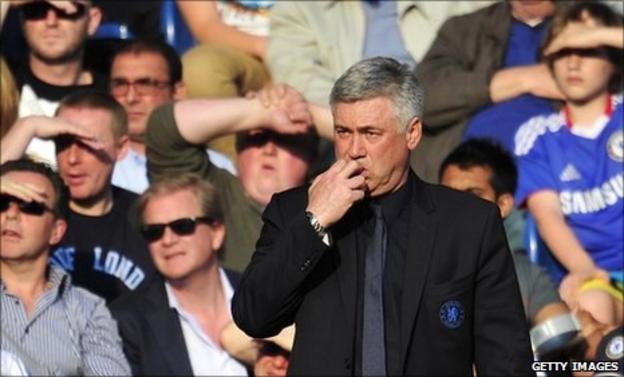 With defiant rays of golden light framing his famously arched eyebrow, Carlo Ancelotti laughed as he pinpointed the reason behind Chelsea's end-of-season surge.
"When the sun comes out, when the temperature is more hot, I think it's better," chuckled the Italian.
Much like last year - as the former AC Milan boss highlighted with tongue firmly in cheek - Chelsea have thawed out from their frosty mid-season slump to emerge, when it really matters, as title contenders.
Twelve months ago, in his debut season in England, the Blues clinched their first ever Double as their players clicked like life-long best friends to pull away from Manchester United in style as opponents drowned in a flood of swashbuckling goals.
How times have changed. Here they were forced to rely on the scrappiest of undeserving wins against Tottenham, with Chelsea continuing to look like a bunch of strangers - albeit determined ones.
"We would have liked to win this game with a different situation," said a relieved Ancelotti, half an hour after Salomon Kalou's disputed late winner reduced United's Premier League lead at the top of the table to three points.
"We were lucky. We have to be honest and say this. We have to accept we were lucky."
Only the most blinkered of Shed Enders could deny that the two controversial goals - courtesy of questionable refereeing decisions - papered over another confusing display, one which has merely postponed some serious soul-searching across a club in flux.
For now, though, does Ancelotti - who informed observers believe will be dismissed come June regardless of Chelsea's destiny this season - think they can snatch an improbable second consecutive title?
His reticence is hard to hide: "[All we can do] is prepare well for the next game, and the next game is against United. It doesn't matter about their [United's] game with Arsenal. It doesn't matter how far behind we are. This team has had a good reaction after their defeat to United [in the Champions League quarter-finals]."
Should Chelsea end the season empty-handed while the Red Devils take a record 19th league title - and a third Champions League final in four years - attention will turn to the Stamford Bridge boardroom.
But, critically, will the powers-that-be look in the mirror at themselves? Or, as expected, will they merely dust off Ancelotti's P45 in their relentless quest for ready-made success?
That the suave 51-year-old has hauled Chelsea to within reach of United - who have never before borne more glorious fruit from the daunting depth stability in their ranks - with a handful of games left to play, is to his enormous credit.
And for falling behind as the mercury dipped below zero - they were a distant position 15 points adrift just two months ago - it is hard to blame Ancelotti.
Known to be an all-round good guy - even Sir Alex Ferguson says so - the former international midfielder has cajoled his beleaguered troops with wit and vision, despite the challenges he has faced.
Watching Chelsea stumbling along, struggling to find anything in common against Spurs, it was crystal-clear that Roman Abramovich's shock £50m delivery of Fernando Torres in January transfer window has hindered - not helped - his best-laid plans.
Boldly, the Italian opted to start Torres - still a gifted player who would clearly have benefited hugely from a full pre-season learning Chelsea's system - with Didier Drogba against Tottenham.
But once again, despite the odd flicker of life, it left them lacking collective direction as square pegs were bludgeoned unsuccessfully into round holes.
"The problem was not the positions," countered Ancelotti.
"We tried to play between the lines, in the middle of the pitch, but we did not use the wide spaces. Torres' performance was good and Drogba sacrificed a lot, playing a little bit behind him."
Yet what this continual analysis over the merits of different shapes highlights is that Chelsea are unbalanced by having to make room for a player who is trying to find his form - and missing confidence - in a team that are baffled by having to incorporate a new star while trying to defend their Premier League title.
"It is unusual that a big player like this comes in the January transfer window," admitted winger Florent Malouda on Friday. "We have been changing a lot: 4-4-2 to 4-3-3 to Christmas tree. It's not easy for the manager. It was not easy for the players."
This tactical conundrum has come as a major distraction for Ancelotti, who was also forced to refute whispers of unrest after substitute Kalou, who replaced Torres, failed to celebrate his winner with any semblance of joy.
"It's not a problem juggling players," said Ancelotti, ever the diplomat. "I understand they are not happy to stay on the bench. This is Chelsea. We have an excellent squad."
Though ultimately that cannot be questioned, Ancelotti might remind Abramovich that the owner's bid to cut costs last summer - by letting a number of high-profile mainstays go, such as Michael Ballack - left him fielding a substitutes' bench full of untried youngsters during their winter troubles.
Factor in the swift mid-season removal of his influential assistant (and confidant) Ray Wilkins, and Chelsea's boss could be forgiven for feeling like a man who has had the carpet whipped from under his feet by people who - unlike him - have not won the European Cup as both a player and manager.
For now, optimist Ancelotti - who had to deal with Silvio Berlusconi while working his magic in Milan - refuses to be critical of the Chelsea regime under Abramovich, even indirectly.
But should he be inexplicably sent packing this summer, do not expect that to remain the case.