Hearts winger Suso undergoes knee surgery
Last updated on .From the section Football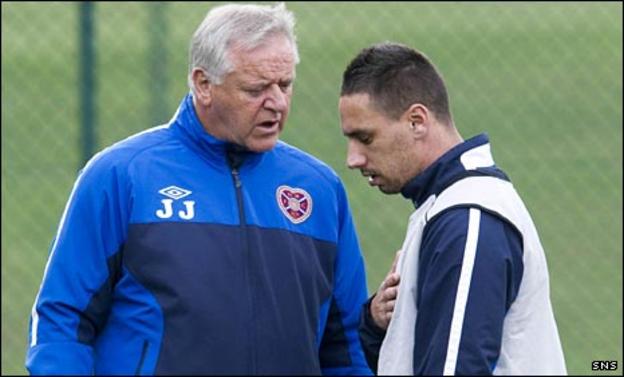 Suso will miss Hearts' final four matches of the season after undergoing knee surgery - and fellow winger Andrew Driver could follow.
Hearts manager Jim Jefferies says Suso could no longer play through the pain.
"The more he's tried it, the more damage he's caused - the result was he went for an operation," he stated.
"Andrew Driver's in a similar situation. It might be he can go in next week and get done as well, but he's in the squad for Saturday."
Injury-plagued Driver, who is suffering a hernia problem, did not make his first appearance of the season until January and has only had 11 outings since then.
Suso's appearances have already been restricted this season after he was forced to have cartilage surgery in November.
But there was better news for Hearts defender Andy Webster, who went off at half-time with a groin strain during the 3-3 draw with Motherwell.
"He went for a scan earlier in the week," said Jefferies ahead of Saturday's match against Kilmarnock.
"It didn't show anything. He's not trained in the early part of the week.
"We'll keep our fingers crossed he'll be okay."
Winger Rudi Skacel and midfielder Ruben Palazeulos should overcome injuries to face Kilmarnock, while defender Lee Wallace could return to training next week and be ready for the final two games of the season following an ankle problem.
Jefferies, whose side have a seven-point lead over Dundee United, is keen to secure third place in the Scottish Premier League as soon as possible so he can progress his summer squad building plans.
After one win and five draws in the last eight games, Jefferies said: "It would be ideal if we could get it tied up.
"There's a lot riding on it. If it is confirmed then we can move to try to get everything settled - what we're going to do, what we're not going to do, we can take forward chats we've had with targets.
"Right now, it's best to leave that and just focus on getting there first."
Jefferies may make a further trip to Lithuania to speak to majority shareholder Vladimir Romanov in order to confirm targets.
"It might take a visit there, but that would be the one where we would make all the decisions," added the Hearts boss.
"We're doing all the spadework at the moment and I've kept him in touch.
"When we actually sit down and find out what we can do will be, hopefully, once we've clinched third place."