Rangers hopeful of new Allan McGregor contract
Last updated on .From the section Football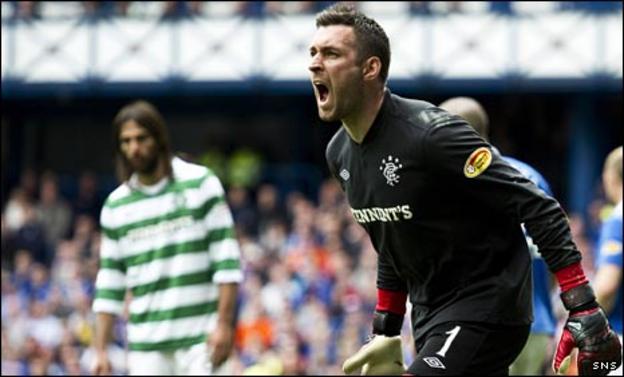 Rangers assistant manager Ally McCoist is confident about the chances of Allan McGregor signing a new contract.
Reports claim that the goalkeeper, who has two years left on his contract, has been offered a four-year extension.
"The fact that Allan has come out and said he wants to stay is a great start to any conversation about someone renewing their contract," said McCoist.
"It would certainly be a great boost for us. From the management side, we are very hopeful that it can be done."
McGregor's current contract expires in 2013 and McCoist says he is not party to details of any new offer.
"I can't confirm it unfortunately because I haven't really spoken to Martin Bain or Allan about it," he said.
"But I know that Martin and Allan's representatives have been talking."
Scotland international McGregor was in excellent form in Sunday's showdown with title rivals Celtic, when he saved a penalty in a 0-0 draw that keeps the Scottish champions a point ahead.
"We saw at the weekend how important he is for us, but he has been top class for a while," said McCoist.
McGregor is thought to be looking to extend his contract by at least two more years despite interest from England and clubs on the Continent.
However, with venture capitalist Craig Whyte's protracted takeover of the club still to be completed, the goalkeeper realises there is still uncertainty about the club's budget for present and future players.
"I still have two years of my current deal, so there are players with priority over me," the Scotland number one told ClubTV.
"I think they need to get sorted out first and then we will see what happens.
"But I have been here my whole life. I love the club and I would love to stay, but it is out of my control, I think, if something does happen in the summer.
"My challenge is to win games at this club and win as many trophies as I can and I love that challenge. It is the most important thing to me.
"Each season is a different challenge and you want to keep winning and that's what I love.
"My main focus is on this season and then I will enjoy a holiday and take it from there."
McGregor believes he is improving year on year.
"Since I broke into the team four or five years ago, I feel I have slowly got better each season," he added.
"I feel like that again this season.
"You always learn, especially at a club like this, playing in European games and also playing for Scotland."