Real Madrid and Barcelona face Uefa charges
Last updated on .From the section Football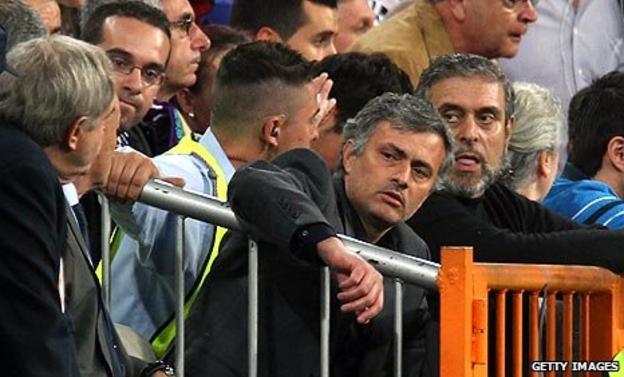 Uefa has charged Real Madrid and Barcelona over incidents in their Champions League semi-final, including Jose Mourinho's post-match outburst.
The Real case also centres on the dismissals of midfielder Pepe and manager Mourinho and the behaviour of their fans during Wednesday's match.
Uefa is also looking at the red card shown to Barca reserve keeper Jose Pinto at half-time in their 2-0 win.
Both cases will be heard by the Uefa Control and Disciplinary Body on 6 May.
Barcelona later announced that they would report Mourinho to Uefa over his comments, with the Catalan club saying: "We want to stand firm when the war of words passes certain limits and we believe Mr Mourinho crossed this line yesterday."
Real then responded with a statement on its website which read: "Real Madrid is obligated to follow suit concerning the repeated unsportsmanlike behavior of Barcelona, whose players consistently feigned aggressions with the sole purpose of misleading the referee of the match, which clearly led to the unfair decision to dismiss our player Pepe."
A bad-tempered match erupted at half-time when there was a fracas on the touchline as the players were leaving the field, which resulted in Pinto being shown a red card.
Real were reduced to 10 men soon after the interval when Pepe was sent off for a high tackle on Dani Alves.
Real coach Mourinho was subsequently dismissed himself after being seen to sarcastically mouth "well done" to the fourth official.
Two late goals from Barca star Lionel Messi gave the Catalans a massive advantage going into Tuesday's second leg at the Nou Camp, and prompted Mourinho to launch into a diatribe in which he implied Barca are favourably treated by referees.
"It's clear that against Barcelona you have no chance," the Portuguese said. "I don't know if it's the publicity of Unicef [the club's shirt sponsor], I don't know if it's because they are very nice, but they've got this power.
"I don't know if it's the friendship of [Spanish football federation president Angel Maria] Villar at Uefa, where he is vice-president."
Mourinho drew a parallel between Wednesday's events and a similar "scandal" at Stamford Bridge in 2009 when Barca reached the final at Chelsea's expense after referee Tom Ovrebo turned down four penalty appeals by the Blues.
"I hope that one day [Barca coach Pep Guardiola] will win a clean Champions League, with no incidents behind it," he added.
Real Madrid made a staunch defence of their players on the club's website, saying that the Pepe sending off "changed the course of what was an evenly-fought match (but) was not worthy of a red card", adding that video showed "the player only touched the ball".
Barcelona's Sergio Busquets is later described as having "dived" in what was "another unsportsmanlike gesture and more fuel to the fire for the referee to deal with", adding: "It lasted for 90 minutes as millions around the world watched on the small screen."
Earlier this season, Mourinho was given a one-match Champions League ban by Uefa after appearing to instruct his players Xabi Alonso and Sergio Ramos to be deliberately sent off against Ajax so they would serve a suspension before the knockout phase.
Real are also being charged over the "throwing of missiles and a pitch invasion" by their fans, Uefa said.