Alfreton chairman eyes three-year plan to go full time
Last updated on .From the section Football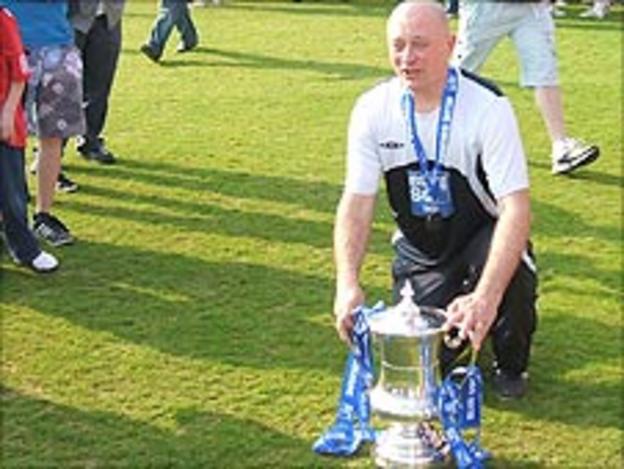 Alfreton Town chairman Wayne Bradley has said he wants the Blue Square Bet North champions to move to full-time status over three years.
"We accept we have to make changes in order firstly to ensure we survive and then hopefully build," said Bradley.
"I think over three years we can create a set-up capable of challenging at the top of the division."
While counselling a cautious approach to their newly elevated status, Bradley is adamant a place among the non-league elite is something to be celebrated first and foremost.
"We have taken a great delight in achieving something we have been on the brink of for some years now and it is our consistency that has seen us through," he said.
"There are not many clubs who can finish third, third and first in successive seasons. Promotion is to be embraced, not feared.
"It is a remarkable achievement to find such consistency and again without over-stepping the budgetary marks.
"Going full-time isn't a case of us saying 'Look at us trying to be big', it is a case of being preparatory and sensible if we want to make a mark, it is something we have to do.
"This year the manager has won the division and kept under the budget he was given at the start of the season.
"It wasn't because he couldn't spend the money, it was because he didn't want to spend it because he was happy with what he had got.
"We are going to have to move from 100% part-time on the pitch to what we need to be, which is full-time.
"But the vast majority of the infrastructure and development and administrative part of the club are already geared to working seven days a week and have been for a long time so that won't affect us."
Alfreton finish their season with a home game against Nuneaton Town on Saturday, and will display the Blue Square Bet North championship trophy to fans before and after the game.