Celtic's Charlie Mulgrew content at centre-half
Last updated on .From the section Football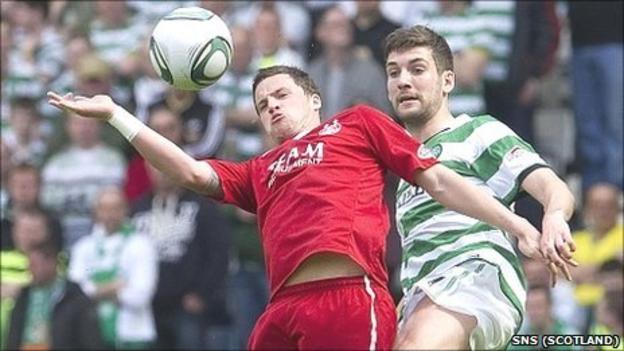 Charlie Mulgrew believes his future at Celtic is as a centre-half after a successful switch from left-back.
With injuries to his regular centre-halves, manager Neil Lennon moved the former Aberdeen defender inside from his usual berth on the left in January.
And even with Thomas Rogne and Glenn Loovens fit, Mulgrew has retained his place beside Daniel Majstorovic.
"It's probably the best spell of my career so maybe I am more of a centre-half now," said the 25-year-old.
And Mulgrew, in his second spell at Celtic Park, added: "I believed I could play there. I played a lot there for Aberdeen.
"I was doing a job at the time and I have been lucky enough to do well to stay at the team and long may that continue.
"I have spoken to the gaffer about it. He is happy with me there and and I have been happy there and we have been winning games, so it's been good.
"As long as we are winning, it's more about the team than where I am played.
"I will play anywhere as long as I am in the team."
"Most managers nowadays like players who can play in a few positions, I hope so anyway."
While Mulgrew is looking forward to the excitement of trying to complete a Scottish Premier League and Scottish Cup double, he admits it seemed an unlikely scenario a year ago when he was coming to the end of a disappointing season at Pittodrie.
"My contract was coming to an end at Aberdeen," he said.
"We weren't doing too well in the league and so I couldn't have imagined that this is where I would have been 12 months on.
"I was just playing it by ear and waiting to see what came up and what offers were on the table.
"I didn't want to rush into anything because it was a big decision and I didn't and it worked out best for me.
"I didn't know of Celtic's interest at that time and I didn't think I would be back, but anything can happen in football.
"But we have won nothing yet. We are looking one game at a time.
"I know it's a cliché but that's the way we are looking at it."