Gerard Houllier encouraged by recovery from heart scare
Last updated on .From the section Football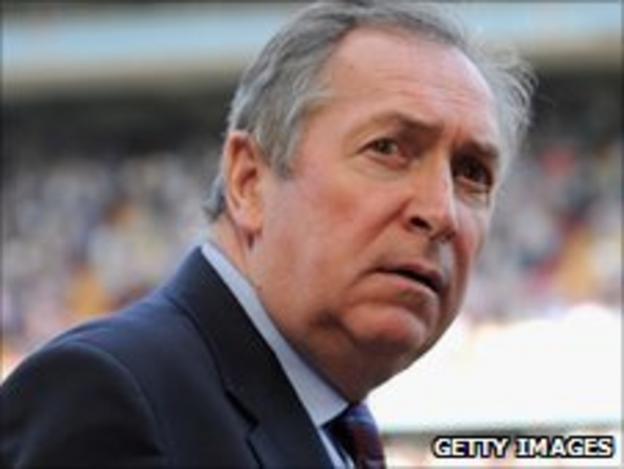 Aston Villa manager Gerard Houllier says he is making an "encouraging" recovery after being taken into hospital with chest pains on Wednesday.
The 63-year-old missed Villa's 1-1 draw with Stoke on Saturday as assistant manager Gary McAllister took charge.
But Houllier stated: "My condition is improving and extremely encouraging."
Houllier's doctor, Mark Waller, said the Frenchman could leave coronary care in three to four days after tests showed his heart "working perfectly."
Houllier had major surgery after suffering heart-related problems in 2001 while he was managing Liverpool but will not require surgery after his recent problems.
Waller added: "We are extremely encouraged by Gerard's improvement over the past six days."
Since being taken ill Houllier said he had been overwhelmed by messages of support.
"I am very moved by the fact that so many people have me in their thoughts just now," said Houllier.
"I am extremely touched by all the messages I have received and by the reaction of people throughout the world of football. It has been overwhelming actually.
"I'm especially grateful to the Villa fans for their genuine concern and encouragement and to the fans of clubs up and down the country. There has been a groundswell of good will and I appreciate this so much.
"I'm grateful to my players for their texts and messages and, of course, for their efforts in extending our recent unbeaten run on Saturday against Stoke and also to Gary McAllister and the rest of my staff - the team behind the team - for stepping in and taking the reins at this time.
"I'm grateful, too, to my managerial colleagues who have taken the time to get in touch with me.
"You need to know that the care I have received at the Queen Elizabeth Hospital has been first class and I am in the debt of the medical staff whose expertise and human touch has helped me through these past six days."
There is no indication as to whether Houllier will return to the Villa dugout before the end of the season but McAllister is likely to take charge of their game at West Bromwich Albion on Saturday, after which the Villa Park outfit are due to face Wigan, Arsenal and Liverpool.