Neil Lennon dismisses Walter Smith's Ibrox penalty jibe
Last updated on .From the section Football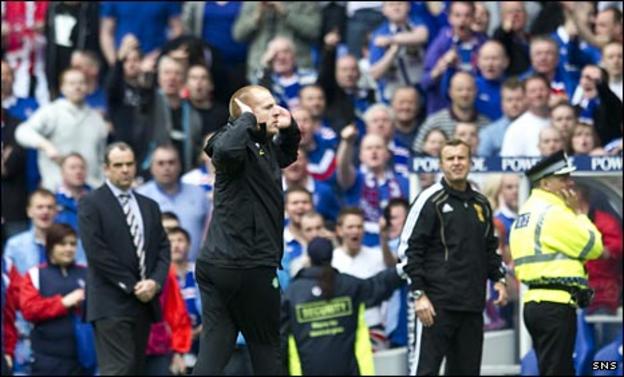 Neil Lennon has dismissed Rangers boss Walter Smith's suggestion that Celtic's pressure on officials led to their spot-kick award at Ibrox.
Celtic have battled the Scottish Football Association over refereeing decisions made this season.
But, after the 0-0 draw, Celtic's boss said of Smith's claim: "It is nonsense.
"It looked a penalty to me. Have they not had penalties against us this season, one where the referee wasn't even looking at it?"
There were less than 10 minutes remaining when Celtic substitute Anthony Stokes was adjudged by referee Craig Thomson to have been fouled by Steven Davis inside the box.
Goalkeeper Allan McGregor made a great save from Georgios Samaras to not only keep the game goalless but also keep Rangers a point clear at the top of the Scottish Premier League - although Celtic have a game in hand.
After the match Rangers boss Smith told BBC Scotland: "Celtic started this season with a campaign about never getting decisions.
"Well, they got one today. I don't think anybody can say that that was a penalty out there."
But Lennon believes his side were denied an earlier penalty when Joe Ledley clashed with Steven Whittaker.
"People are telling me it is soft, but I think the one with Ledley in the first half could have been one - and the second one with Stokes, they are telling me there was contact, although he did go down a bit dramatically," said the manager.
The build-up to the seventh Old Firm game of the season had centred on the parcel bomb that was sent to Lennon and which had resulted in security around the Northern Irishman being tightened.
However, some Rangers fans raged when Lennon cupped his ears to supporters in the main stand as he went up the tunnel at the end of the game.
"Don't ask me about that," said Lennon. "It's called humour, all right.
"Don't distract away from my team's performance. Don't even write about it. You have the photographs I'm sure, but it is just a bit of fun.
"I don't want to distract from my team's performance.
"They were men, real men, stood up to everything that Rangers threw at them and came back for more."
When asked if some fans might not see it as humour, the former Celtic skipper retorted: "That's their problem. It's only a bit of fun. Don't ask me about it again."
Strathclyde Police said confirmed they received a complaint regarding Lennon at the end of the match.
"Strathclyde Police officers were in attendance at the time and would have taken action at that time if they had deemed it appropriate," a spokesman said.
Celtic chief executive Peter Lawwell described the complaint as "absolute nonsense".
"It is laughable that such a ludicrous complaint has been made given the abuse Neil received throughout the match," he said.
"It tells you more about those making the complaint than it does about Neil."
The draw means Celtic can leapfrog Rangers and go two points clear at the top if they win their game in hand.
"People called this a pivotal game, but I didn't see it that way," said Lennon.
"It gave us a slight advantage going into the remaining five games, one of which is the game in hand, which we need to get a positive result from.
"I was apprehensive about the game, but I was very pleased with my team. I am very proud of them."
"We weathered what Rangers threw at us and, once our centre-halves got a grip of their centre-halves, the midfield got stronger and they started to wilt.
"We defended set-pieces very well and I don't think our goalkeeper had a save to make, although they had a few chances which flashed past the post, but you expect that when you come here.
"We were the better team in the second half and should have won the game."
Lennon admitted he has had enough of Old Firm games this season.
"I am glad the Old Firm scenario is out of the way and we don't have to go through all the hype that surrounds it," he said. "That's seven - plenty for one season.
"So, on the balance of the seven games, we have proved we are more than a match for Rangers, if not better, whether they go on to win the league or not."
The Celtic manager was also quick to clear Samaras of blame for the penalty miss.
"If it had been a poorly-struck penalty then I would have criticised him for it, but it wasn't, it was an excellent save," he added.
"So we have no problem with Samaras. We wouldn't be in this position if it wasn't for him earlier in the season."