Kenny Shiels confident of winning Kilmarnock job
Last updated on .From the section Football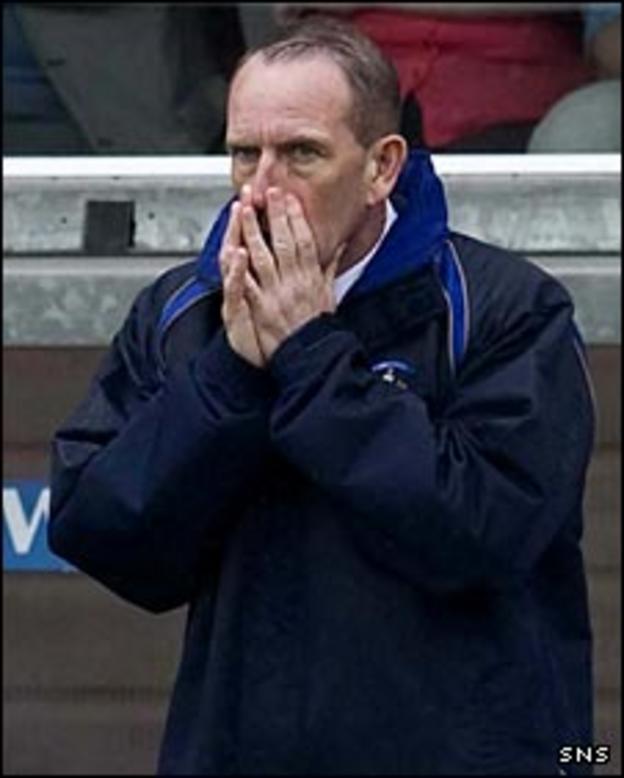 Kenny Shiels insists he is the man to lead Kilmarnock despite suffering two straight defeats as caretaker manager.
Kilmarnock scored two late goals but still lost 4-2 to Dundee United.
"I can understand people putting two and two together and getting five, but I feel I am the right person for this job," Sheils told BBC Scotland.
"I have never felt more about that than I have done for today. I feel I can get the players prepared properly, tactically and physically."
Shiels believes he showed his worth with the tactical changes he was forced to make at half-time following injuries to Ryan O'Leary and Craig Bryson.
And he insists that, despite two draws and two defeats since Mixu Paatelainen left to become Finland coach, it was injury problems rather than a change of manager that was most significant.
"Since the previous manager left, we have had nothing but players going out injured," said Shiels.
"We lost Frazer Wright, we lost Mehdi Taouil, we lost Sissoko, we lost O'Leary again today and now we've lost Bryson.
"These things happen in football, you get them in periods.
"We have just been very unfortunate and we don't have the depth to sustain that at the moment."
Shiels hopes that Kilmarnock will take that into consideration when making a judgement on his performance when deciding on a permanent manager.
"Because I am after the job, I have to be totally honest and say that there's probably an added pressure on me to get results and I accept that," he said.
"But I would hope that I'm not judged on the situations and the circumstances that have happened.
"These are not excuses, they are reasons and the boys in the dressing-room know that.
"We are not feeling sorry for oursleves, but I am really excited about getting the job and I am confident that it will be viewed from that perspective that there has been a lot of circumstantial happenings.
"I am excited because, from what I've seen when we made the changes again, we are looking forward to our next game.
"It has been like a domino effect where players have gone down and we've had to patch up the team and played tough opponents like Celtic and Dundee United."
Shiels stressed that Kilmarnock had lost to United side who are "firing on all cylinders" and who were back to near full strength following their own injury problems.
Alexei Eremenko, who has been nominated for Scottish players' player of the season, had a poor game, but Shiels simply put it down to an off day.
"Alexei is a player who plays really well when the team have possession and out of possession is not one of his strengths," added the manager.
"But he is a very good player, as we have seen this season, and I don't think we should labour too much on his performance."