Kello's absence 'a private matter', says Jim Jefferies
Last updated on .From the section Football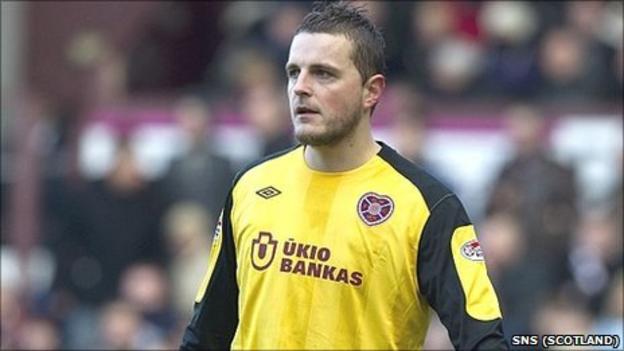 Hearts manager Jim Jefferies insists goalkeeper Marian Kello's recent absence from the first team is due to "a private matter".
The Slovakia international, 28, has been a key Hearts player this season but will not feature at the weekend.
Jefferies rejected the notion that Kello is not being selected at the behest of club owner Vladimir Romanov.
He said: "It's something private. Marian and I have discussed it and it's a decision we both came to."
Kello, with 29 appearances this season, last played in the Jambos' win over St Mirren on 19 March.
He has been troubled with a back problem, but Jefferies' comments confirm there are other factors behind fellow keeper Jamie MacDonald's inclusion in the three games since that victory over Danny Lennon's side.
The Hearts boss added: "It's a private matter. I can't discuss an internal matter because there are legal things involved and it's not right to discuss it.
"About a week after he was out after his back spasm there was a report on something which I discussed with Marian and have done two or three times a week [since].
"When this was brought to our attention I asked him what he thought.
"In the circumstances we decided it would be better if we got it cleared up.
"Hopefully that will be soon and when it is he'll be back in the team. If that sort of thing is on his mind he wouldn't be in the right frame of mind."
Jefferies dismissed suggestions that Kello's omission from the first team was similar to that which affected captain Marius Zaliukas earlier in the season. He was frozen out of the team by Romanov, the club's majority shareholder, before signing a new contract in November.
"It's nothing to do with the Zaliukas situation at all," added Jefferies ahead of his team's game against Motherwell on Saturday.
And asked whether Kello still has a future at Tynecastle, Jefferies added: "I hope he has. He's a terrific boy and he's got my full support."