Arsenal supporters keen for Kroenke to 'win over fans'
Last updated on .From the section Football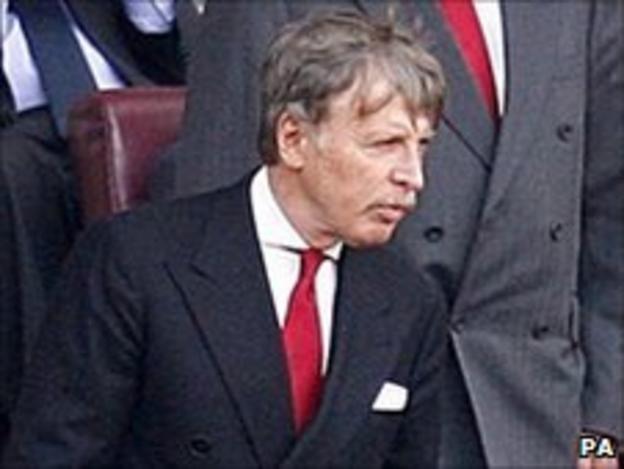 The Arsenal Independent Supporters' Association (Aisa) has issued a statement to the club's majority shareholder Stan Kroenke.
Aisa wants Kroenke to promise that no debt arising from the purchase of shares will be transferred to the club.
The statement also calls on the Gunners to freeze ticket prices.
On 11 April, Kroenke became the majority shareholder when Kroenke Sports Enterprises (KSE) agreed a deal to buy the stakes of the late Danny Fiszman (16.1%) and Lady Nina Bracewell-Smith (15.9%) for a fee of around £234m.
This took Kroenke's holding up to 62.89% - and by passing 30%, under company law he is obliged to make a mandatory cash offer for the remaining capital at a price of £11,750 per share, which values the club at £731m.
However, one fans' group, the Arsenal Supporters' Trust, has already said its minority shareholders will not sell as they seek to retain a voice.
Red and White Holdings, the investment vehicle of Russian-based Uzbeki billionaire Alisher Usmanov, are also unwilling to do business over their 27% stake in the club.
And Aisa wants Kroenke to prove his intentions are in line with their own, as well as continuing the Arsenal Fanshare initiative.
The Aisa release read: "The sale of large tranches of the club's shares over the last few years has created a good deal of uncertainty amongst supporters, and together with the constant media speculation has had an unsettling effect.
"The announcement on 11 April 2011 marks the start of a new era for Arsenal, and the beginning of the end of that uncertainty.
"It is important that the new era starts off on a positive note, and Arsenal fans are very aware of what has happened at other major football clubs in recent years when changes of ownership have taken place.
"We therefore believe it is crucial that no debt contracted by KSE, and/or by Mr Kroenke personally, be transferred to Arsenal Holdings plc or any subsidiary now or in the future, nor secured against Arsenal revenues.
"Aisa has been banging the drum, and will continue to do so, about the need for the club to recognise more fully supporter loyalty and recently presented 10 key proposals on ticket prices and supporter loyalty to the chief executive.
"We hope the new regime will embrace this document and look forward to dialogue on this crucial issue.
"We look forward to working with Stan Kroenke and KSE to maintain, develop and strengthen the voice of supporters within our great club, and we commit ourselves to act in co-operation to achieve the best possible outcomes for the club on and off the field."
Kroenke, who owns the Denver Nuggets basketball franchise, the Colorado Avalanche ice hockey team, the St Louis Rams American football team and Major League Soccer side Colorado Rapids, bought into the club in 2007 and since then has gradually increased his holding.