Ancelotti predicts Didier Drogba will stay at Chelsea
Last updated on .From the section Football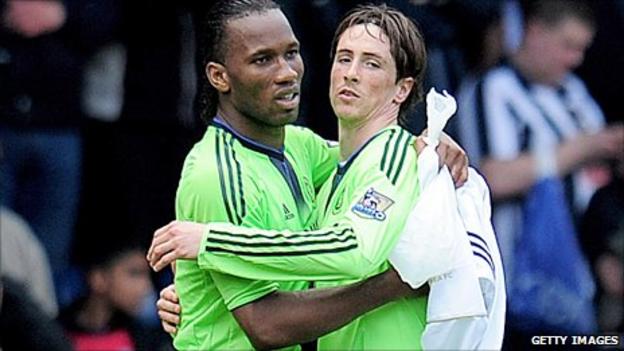 Chelsea boss Carlo Ancelotti believes striker Didier Drogba still has a future at the club, despite the arrival of Fernando Torres.
Drogba, 33, scored once and helped set up two goals in Chelsea's win over West Brom on Saturday.
"Torres was bought as he is a fantastic striker, young, but this doesn't mean Didier has to go," said Ancelotti.
"He has been a very important player for the club in the past, and he will be for the club in the future."
Drogba will have a year to go on his contract after the end of this season and there is speculation he may leave Stamford Bridge in the summer.
The Ivory Coast international has had an inconsistent season by his standards after suffering with malaria towards the end of last year.
But he showed what he is capable of in the win over the Baggies, leading the line after Torres and fellow striker Nicolas Anelka were dropped to the bench.
"As we know Didier had a problem with malaria and lost a few months when he was not 100%," said Ancelotti, whose own future at Stamford Bridge is in doubt.
"But when he is, every time he is able to use his abilities, his power for the team, and he has a body that can continue for a long time.
"He has to continue to train well, be professional, because for a player who is 30-years-old, it is important he trains, to have good control of his body, and do everything to maintain his fitness."
Chelsea remain third in the top flight but the win at the Hawthorns closed the gap on leaders Manchester United to eight points, with both teams having six games left to play.
"We showed personality and character after defeat by Manchester United [in the Champions League]," added Ancelotti.
"We are strong and solid as a character and this is good. We have six games left and we want to do the same as we did in this game [against West Brom]."
Baggies boss Roy Hodgson had no qualms over a result which ended his unbeaten six-game run since taking charge of the Midlands outfit.
"We've had a wonderful spell, and when you have that, you forget what losing is like, so today we have to come to terms with that again," he said.
"When you face Chelsea you know they are one of the tightest teams in the league, one of the hardest teams to score against.
"So facing a second half when they are two goals better than you, you are staring down the barrel of a gun.
"The positives I take are that in the second half we came out and fought very hard.
"We at least made certain our goal difference remains reasonable and that we didn't get absolutely battered by a Chelsea side that are capable of doing that."