American tycooon signs AS Roma takeover deal
Last updated on .From the section Football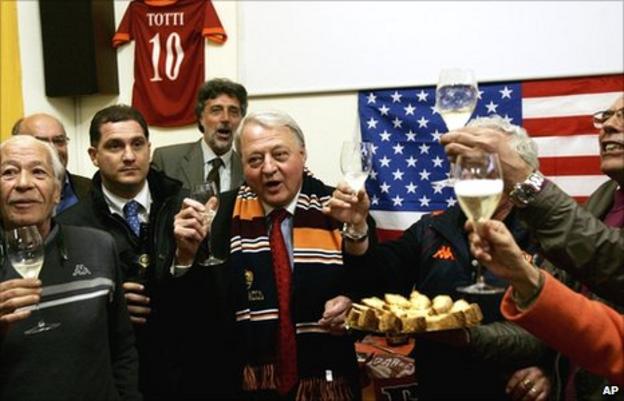 Roma have become the first major Italian team to have foreign ownership after a group of American investors signed a deal to buy the club.
The consortium, led by Thomas DiBenedetto, have agreed to buy a 67% controlling share of the club for 70.3m euros (£62m).
Private equity tycoon DiBenedetto is a partner in Fenway Sports Group, the parent company of Liverpool's owners.
He says he hopes to make Roma "one of the biggest clubs in the world".
"The deal is done," DiBenedetto said at a press conference on Friday after completing the formalities along with Paolo Fiorentino, vice president of Unicredit bank.
Unicredit last year became co-owner of the cash-strapped club and will have a share of the new ownership company.
"There have been complicated points, but I never felt like giving up," added DiBenedetto of the deal, which must be approved by financial regulators.
"I am proud of my Italian origins and for this reason I will do big things."
DiBenedetto has lofty ambitions for his new acquisition, telling Italian paper Gazzetta dello Sport he wanted to "a club capable of winning the Scudetto [Italian league title] every year and to be finally competitive in the Champions League".
It has been widely reported that that push for on-field success will involve bringing Chelsea's Italian manager Carlo Ancelotti to the Stadio Olimpicio at the end of this season.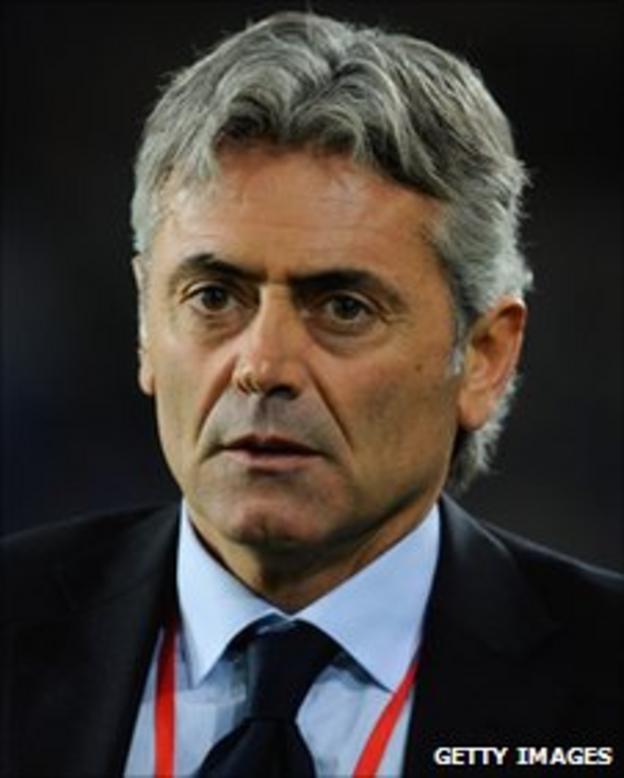 England's assistant manager Franco Baldini, meanwhile, has reportedly held talks with the club over a possible role.
"He is someone who really knows his football, so I like him a lot," DiBenedetto was earlier this month quoted as saying of Baldini, who along with boss Fabio Capello, is due to leave his England post after the Euro 2012 finals next summer.
If Baldini is lured to Rome, it will be his second spell at the club, having been their director of football from 1999 until his resignation in March 2005.
Following ex-Chelsea boss Claudio Ranieri's resignation in February, Vincenzo Montella was installed as manager until the end of the season.
Under 36-year-old Montella - a fans' idol during his playing days with the club - Roma find themselves sixth in the league table, 15 points behind leaders AC Milan.
Montella's side reached the last 16 of this season's Champions League, where they lost to Shakhtar Donetsk, while their hopes of playing in next season's tournament suffered a blow on Saturday when they lost 3-2 at home to Palermo.
The result left Montella's side four points off the fourth and final qualifying spot - occupied by Roma's local rivals Lazio - with five games remaining.
In terms of players, DiBenedetto on Friday spoke of his hope to bring more local talent through to Roma's senior ranks.
"If you look around professional soccer today, there are a number of players who grew up in greater Rome," Di Benedetto continued.
"It's our goal to have more of them playing for AS Roma. I think we will put in place the people who will make it attractive for these young men to sign with us."
However, Argentine midfielders Javier Mascherano, of Barcelona, and 21-year-old Javier Pastore of Palermo are rumoured to be on Roma's radar.
Roma have resided in the Italian top flight for 78 years, winning three titles - the last of which came in 2001.
The Giallorossi have also finished second in the league in four of the past five seasons.
Roma are not the first Serie A club to have foreign owners.
Vicenza were under the control of Tottenham owners English National Investment Company between 1999 and 2005, during which time the modest north-eastern club spent some time in the top flight.