SFA Bougherra decision a "dangerous precedent" - Lennon
Last updated on .From the section Football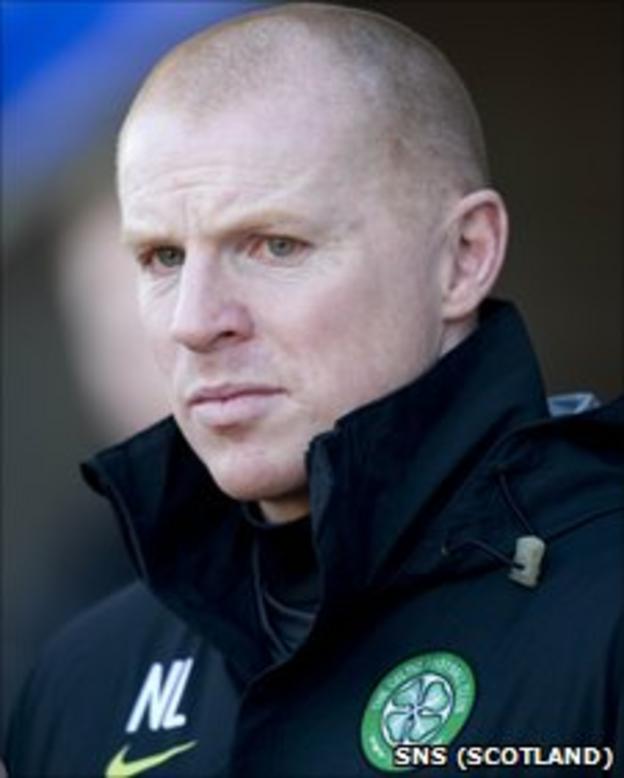 Neil Lennon feels the Scottish FA's decision not to issue Madjid Bougherra with an extra ban for laying hands on a referee sets a "dangerous precedent".
Both escaped additional suspensions, with each player being banned for one match automatically after getting red cards in that Scottish Cup replay.
"I find that hard to take," said Celtic manager Lennon.
During his playing days with Celtic, Lennon received a three-match ban for confronting officials during an Old Firm match in 2005.
"You have to take each case on its own merits but the furore after mine was widespread and quite condemning," said Lennon.
"There was quite a lot of condemnation after this one but the results were different."
Lennon also believes the fines and warnings given to Bougherra and Diouf undermined what SFA chief executive Stewart Regan said in the wake of the March cup clash, which Celtic won 1-0.
Regan cited "inflammatory and irresponsible behaviour" and declared himself "deeply embarrassed" by the events of the match, adding: "Only a matter of months after our referees withdrew their labour, we had to witness the match official, Calum Murray, being manhandled, while another player who had been dismissed brazenly walked to his own supporters in defiance."
Lennon himself received a ban after a touchline confrontation with Rangers assistant manager Ally McCoist at the end of the match but McCoist won his appeal against his suspension.
"If you look at what Stewart Regan said after the game, then it totally undermined what he said, the results of the disciplinary committee," said Lennon.
"I still find it interesting that I was the only one to suffer a ban out of the four people who were up for disciplinary reasons.
"I find it difficult to understand but there is supposed to be a statement out in the next couple of days and I can comment more then."
The SFA are expected to disclose the reasons for the disciplinary committee's decisions next week and are also in the process of streamlining their disciplinary procedures.
"The game has got to evolve, we've got to move with the times and I don't think we have been," said Lennon.
"I'm not confident but a lot of people in football have been asking for it.
"If you look at a lot of cases this season, a lot of the results show that there has to be change."
Meanwhile, Lennon says his "only concern" about Celtic's post-split Scottish Premier League fixtures is that his side will be playing the day after Rangers on three occasions.
"Whatever the split throws at you, we've got to get on with it," added Lennon. "We've had a little run of games before Rangers to try to put pressure on them.
"The shoe is on the other foot but all we can do is win our games. If we win all our games between now and the end of the season, we will win the league.
"I don't know if it's worth seeking clarification but I suppose we could always ask the question. We have not got round to doing that.
"We have two home games and three away, which we knew we would have. It could have been worse and we will deal with each game on its merits.
"It's difficult to work out at times how they come to these conclusions but we will accept it and get on with it.
"We are quite excited and looking forward to each game."