Manchester City are not our main rivals - Paul Scholes
Last updated on .From the section Football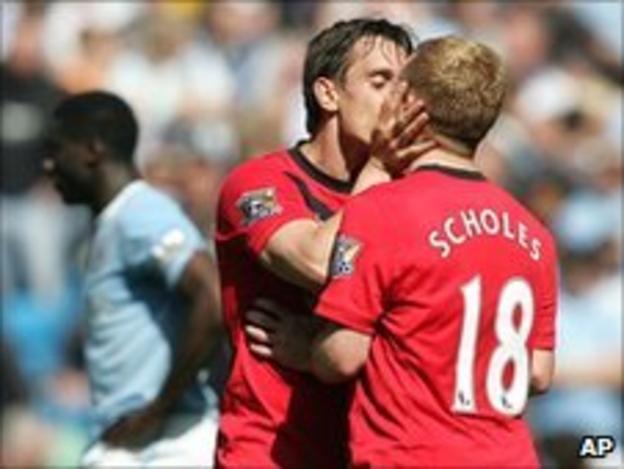 Manchester United's veteran midfielder Paul Scholes believes that FA Cup semi-final opponents Manchester City are not his club's main rivals.
The two teams meet on Saturday at Wembley with United aiming to win the Premier League, the FA Cup and the Champions League this season.
City, on the other hand, have only the FA Cup to play for.
"When they are fourth or fifth [in the league], I don't think they can be classed as a main rival," said Scholes.
"Our main rivals are obviously Arsenal and Chelsea. I think City are just a rival because of where they are [geographically] and Liverpool the same."
City will have to beat United without injured skipper Carlos Tevez as they attempt to win their first major trophy since the 1976 League Cup but Sir Alex Ferguson's team go into this encounter missing the suspended Wayne Rooney.
City will also hope to overturn a wretched run against their arch rivals - they have won only twice in the last 10 meetings.
One of those defeats was in the Premier League last season where Scholes' injury-time header at Eastlands earned United a crushing 1-0 victory.
The 36-year-old midfielder said that goal was "one of the best things I have ever done" and he is under no illusions as to the significance of Saturday's tie.
"It's an FA Cup semi-final at Wembley, it's massive, there will be 30,000 fans from each side... it's the biggest game we've had against City for a while. Whoever loses will be devastated," added Scholes.
"I remember the 5-1 defeat in 1989 and Andy Hinchcliffe scoring that goal. It's painful. I can also remember going to Maine Road and losing 3-1 [in 2002] and it's horrible. You hate losing against anybody, but City? It's bad."
Scholes has long been lauded as one of the greatest English midfielders of his generation by many of the world's best players but he added that he would wait until the end of the season before making a decision about his future.
"I really don't know what I am going to do yet," he said. "I've got these games to think about now and I will decide from there.
"People always say you should play as long as you can but there comes a time when you can't physically do it. I'm wary of that. I just want to make sure it is done at the right time."
United boss Sir Alex Ferguson said he hoped his team's experience of reaching FA Cup semi-finals meant they would be better equipped to triumph on Saturday.
City last reached this stage of the competition in 1981, going on to lose to Tottenham in the final, whereas United have featured in 10 FA Cup semi-finals since Ferguson took over at the club in 1986.
Nevertheless, the Scot admitted that playing the game at Wembley might have a physical effect on his team.
"It can drain the players," he said. "There is an impact in terms of the emotional build-up to the game. The fact it is at Wembley makes it more of an occasion, simply because of the name.
"Obviously it is a different stadium now. Those Twin Towers were a landmark and I wouldn't think the pitch is as tiring as the old Wembley because they have changed it so many times.
"It is a derby game in London, which is unusual but we are ready for it."
Ferguson, who has won five FA Cups, added: "We have got the momentum at the moment. We are winning games, which is important at this time of the season.
"The consistency of the team has been good and we are playing well. Our players have a great determination. I am really pleased with that. It has given us a good chance."