SPL announces fixtures for finale
Last updated on .From the section Football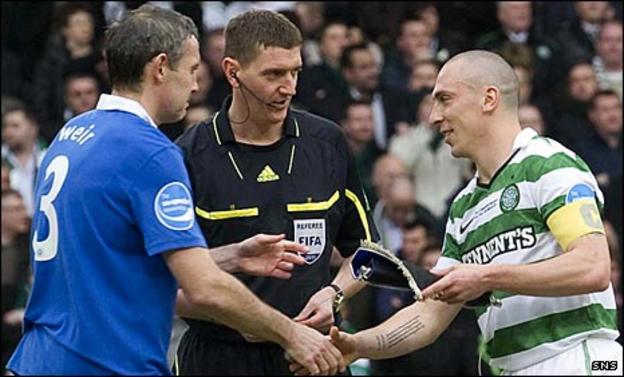 Celtic will host Motherwell while Rangers visit Kilmarnock's Rugby Park on the final weekend of the Scottish Premier League season.
The SPL has announced its final five rounds of fixtures, which follow the splitting of the league into two sections of six teams on 23 April.
It had already decided that the final Old Firm derby would be played on Sunday 24th, when Celtic visit Ibrox.
Hamilton are unhappy at having to visit relegation rivals St Mirren once more.
The bottom side have already visited Paisley twice this season and are 12 points adrift of the second-bottom Buddies.
Even before their weekend defeat by Rangers, Accies manager Billy Reid conceded that they would have to win all their remaining games to stand a chance of avoiding the drop.
But Accies secretary Scott Struthers said: "The club are most disappointed to be asked to visit St Mirren, our rivals for relegation this season, three times away from home.
"And, given the current points scenario, that is potentially a deciding crucial game for the two clubs.
"We are aware of the vagaries of the split and, while we have ended up with 19 home and 19 away, we were actually due four home games post split.
"It is bizarre that we are being sent to our only rivals for a third visit.
"This is not an ideal situation and we shall seek clarification from the SPL on this."
Unlike some previous seasons, every club will have played the same number of home and away games.
However, the way the fixtures have fallen, Rangers will host Dundee United for a third time, while Celtic will travel to Kilmarnock for a third time.
Also in the top six, where Celtic presently lead reigning champions Rangers by two points, Hearts are at home to Motherwell for a third time.
SPL secretary Iain Blair said: "The most important thing is to try to ensure clubs finish the season having played 19 games at home and 19 away.
"We are pleased to say this has been achieved for 2010/11, although in the past some clubs have had 18 home fixtures and 20 away or vice versa."
The Old Firm fixture date had been announced previously following consultation with the police.
"It is well understood that we seek to minimise the likelihood of the Old Firm derby being a title decider," said Blair.
"With the championship race being close, it made sense to schedule this game soon after the split and round 34 was decided upon following consultation with the police and the clubs."
A new date for Celtic's trip to face Inverness Caledonian Thistle, which was postponed on 2 April, will be announced shortly.
Blair did not see the split being ditched by the SPL unless the clubs vote to change the size of the league.
"It might disappear as a consequence of a different league structure being adopted, as would be the case if the proposed top division of 10 clubs was introduced," he added.
"The clubs meet again this Monday for further discussions, but for Season 2011/12 - which begins on 23 July - the current system will remain in place.
"Ultimately, some clubs will be happy with their post-split fixtures - others less so.
"But, unless and until clubs vote to adopt a different league structure, the split and the imbalances it creates are here to stay."
TOP SIX (all kick-off times BST)
Saturday 23 April
Dundee United v Kilmarnock - 1215
Hearts v Motherwell - 1500
Sunday 24 April
Rangers v Celtic - 1230
Saturday 30 April
Kilmarnock v Hearts - 1500
Motherwell v Rangers - 1200
Sunday 1 May
Celtic v Dundee United - 1245
Saturday 7 May
Dundee United v Motherwell - 1500
Rangers v Hearts - 1215
Sunday 8 May
Kilmarnock v Celtic - 1245
Tuesday 10 May
Rangers v Dundee United - 1945
Wednesday 11 May
Hearts v Celtic - 1945
Motherwell v Kilmarnock - 1945
Sunday 15 May
Celtic v Motherwell - 1230
Dundee United v Hearts - 1230
Kilmarnock v Rangers - 1230
BOTTOM SIX
Sunday April 24
Hibernian v St Mirren - 1500
Monday 25 April
St Johnstone v Inverness CT - 1400
Hamilton Accies v Aberdeen - 1615
Saturday 30 April
Aberdeen v Inverness CT - 1500
Hibernian v St Johnstone - 1500
Monday 2 May
St Mirren v Hamilton Accies - 1500
Saturday 7 May
Aberdeen v St Johnstone - 1500
Hamilton Accies v Hibernian - 1500
Inverness CT v St Mirren - 1500
Tuesday 10 May
Aberdeen v St Mirren - 1945
St Johnstone v Hamilton Accies - 1945
Wednesday May 11
Inverness CT v Hibernian - 1945
Saturday 14 May
Hamilton Accies v Inverness CT - 1500
Hibernian v Aberdeen - 1500
St Mirren v St Johnstone - 1500