Dave Jones still enjoying Bluebirds tune
By Peter Shuttleworth
BBC Sport Wales
Last updated on .From the section Football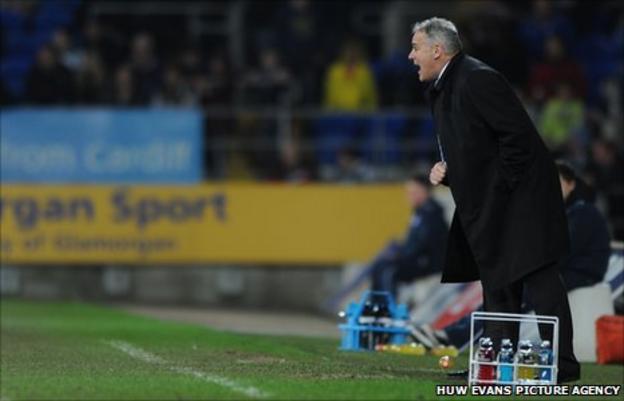 As he relaxes in a tracksuit and his flip-flops, Dave Jones does not look like a man under pressure.
The experienced manager has been a beacon of stability as the Cardiff City soap opera threatened to derail the club's Premier League charge.
But, despite directing the Bluebirds through the choppy waters of winding-up orders, transfer embargoes and takeovers, Jones knows there will be calls for his head should he not guide his all-star Championship squad into the top flight.
While he has been widely lauded for his part in holding together a debt-ridden club and driving Cardiff into a new era under numerous owners, seemingly sentiment will not be good enough for the demanding Bluebirds faithful if Craig Bellamy and his boys are not promoted.
The Welsh club's Malaysian investors dealt with last season's play-off final disappoinment by further strengthening an already impressive playing roster with Jason Koumas, Seyi Olofinjana, Tom Heaton, Jay Emmanuel-Thomas and Bellamy.
And Jones, the Championship's longest-serving manager, has been around long enough to realise the potential consequences should he not lead his team - with Jay Bothroyd, Michael Chopra and Bellamy forming the most feared front line in the second tier - to the promised land of the Premier League and its £90m riches.
"Saying I will go if we don't go up is the standard tick box answer," Jones said.
"I've never been frightened about losing my job but if the club feel they need a chance and feel someone else can take this club further then that is their decision. It is not my position to say.
"Talk of changing the manager is the easy option but the danger is that if the manager goes and the chairman doesn't pick the right man, the club can go from manager to manager and go downhill quickly.
"The clubs with the longest-serving managers are the ones that are most stable.
"But the day the club or I decide that my time is up at Cardiff, then I'll part company on good terms.
"Yet if I left this football club tomorrow then the next manager will come into an environment that is healthy, strong, well-run, well-disciplined, has good facilities and a fully-developed academy.
"I would have left a legacy. But when people leave, that's when people are mostly appreciated and that is the sad part."
Jones threatened to leave Cardiff in the wake of their Championship play-off final defeat last season if the club's new Malaysian backers did not show their financial commitment and enhance the squad for another Premier League promotion push.
The manager had crucial showdown talks with chairman Dato Chan Tien Ghee, the frontman of the Malaysian consortium known as TG, following the 3-2 defeat by Blackpool at Wembley in May 2010.
"If TG had not given me assurances that the new investors were in this for the long haul, I would have gone," Jones revealed.
"I would have walked away because I couldn't see where the club then was going to go. I could have gone to another club as I had a couple of clubs interested."
The Far Eastern investors, led by multi-millionaire property magnate Vincent Tan, helped stabilise the club's finances, staved off a winding-up order and added the finishing touches to a squad that is widely acknowledged as the best in the Championship this season
Club chief executive Gethin Jenkins has insisted there is no ultimatum that says that Jones must get the side promoted but concedes there will be a "fundamental review" whatever the promotion outcome.
Cardiff bid for their fourth successive Championship victory when Jones's second-placed side host Portsmouth on Saturday hoping to consolidate the final automatic promotion place.
The Bluebirds reached their first FA Cup final for 81 years in 2008, losing 1-0 to Saturday's opponents Pompey at Wembley, under Jones despite their £30m debt before narrowly failing in successive Premier League promotion bids.
"Isn't it good that the club has had disappointments?" Jones argued. "As we had had nothing before."
But the widespread feeling among Cardiff's expectant faithful is that failure is not an option for Jones should the club not join Manchester United, Arsenal and Chelsea in the Premier League.
"A lot has happened at this club over the last three years," Jones adds.
"This club is more stable now. We're still not clear of everything as there are some debts still to be paid off but we have moved forward at an unbelievable rate and that has raised expectation levels.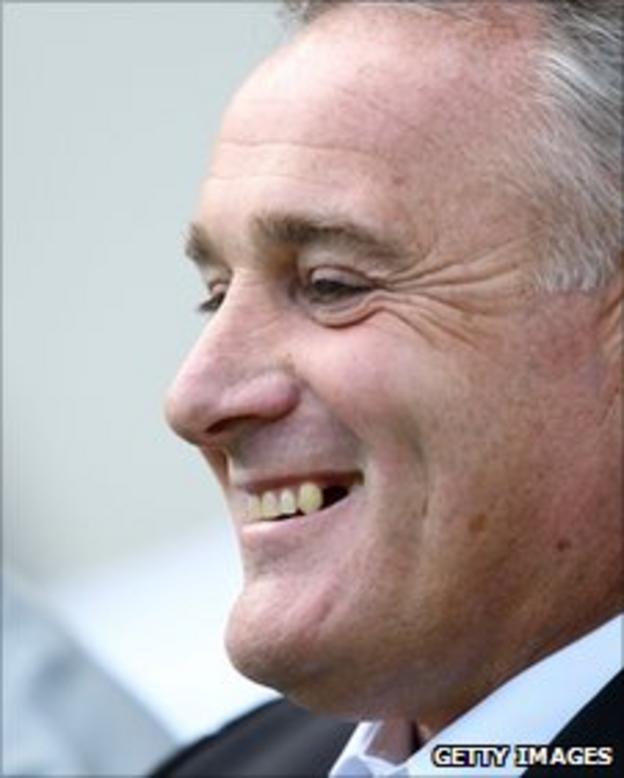 "I remember once being on the team bus going to a game and we had to wait for a phone call to find out if we were to go into administration. We had to pull over into the services to take the call as we might have had to turn around and go back home. We were that close.
"So we have made tremendous strides just to sign players like Robbie Fowler, Jimmy Floyd Hasselbank and Craig Bellamy - this club has never been able to attract players like that.
"But I always seem to get hammered whatever I do, it does not bother me. What I have had written or said about me, it doesn't even scratch the surface.
"If you employ me, then the club builds because I don't let up. I want to be the best and make my club the best, I want to leave a legacy and I have done that at Cardiff.
"People have even said if Cardiff win promotion, they have to get a Premier League manager.
"But I have managed in the Premier League and have not got a bad record with Wolves and Southampton."