Arsenal fans refuse to sell shares to Stan Kroenke
Last updated on .From the section Football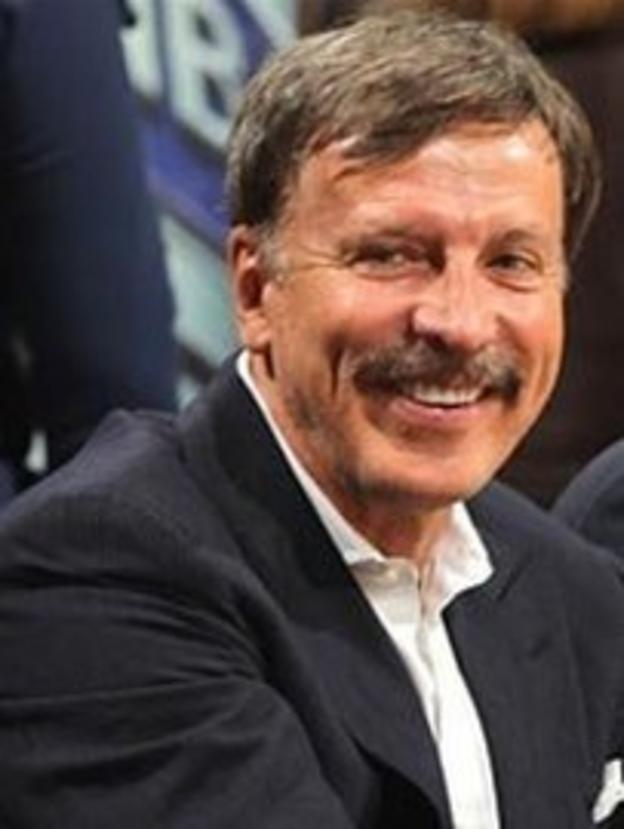 The Arsenal Supporters' Trust has voted not to sell its shares to prospective new owner Stan Kroenke, who has tabled a mandatory offer for full control of the club.
The Trust voted unanimously to reject the offer, which values each share at £11,750, preferring to retain its stake in the club.
An AST spokesman said: "Arsenal is too important to be owned by any one man."
The US businessman now ownssecured more than 62% of the club's shares.
The Arsenal board has recommended all shareholders accept Kroenke's offer but at a meeting of more than 100 AST members, a decision was taken not to relinquish their involvement in the club's ownership structure.
The spokesman added: "The Trust wants to work with Stan Kroenke to keep Arsenal supporters involved in the club's ownership structure.
"The AST and the Arsenal Fanshare scheme will not be selling the shares it owns and urges all supporters to reject this offer.
"In just six months, the Arsenal Fanshare scheme has gained 1,800 members, who have invested £500,000 in Arsenal shares.
"This scheme has been widely praised across the football community and is supported by the Government, who are currently reviewing football's governance structures."
The Trust is not against Kroenke's takeover but their support is strongly dependent on the retention of fan involvement in the ownership of the club.
The supporters were certainly encouraged by Kroenke's confirmation that his takeover bid will not be financed by debt secured against the club.
AST officials met with Arsenal chief executive Ivan Gazidis on Monday and received assurances that Kroenke recognises the importance of a supporters' stake in the club.